I am Sylvia Martinez, and here is how Generation YES experiences might apply to OLPC.
As a company, Generation YES started in 2001. But it's really the result of decades of work by Dr. Dennis Harper. Dr. Harper brought computers to schools in dozens of countries around the world, teaching Logo and other uses of computers to students and teachers.
He wrote the first textbook for teachers about computers in education. Along the way, he found that teaching students how to support teachers in their classroom was the most powerful way to introduce computer use in schools.
Dennis became technology coordinator for the Olympia, Washington schools and immediately started to transform the district into a showcase of student-led, student-centered technology use. Back then he called the approach "Generation WHY." Not only did the students have access to technology in their classrooms, they sat on planning committees, pulled cable, taught teacher workshops, negotiated with vendors, and knocked on doors to get out the vote for technology bonds.
There is more history on our website, but let's fast forward to today. Our curricular materials teach K-12 educators how to create and sustain a model of reverse mentoring for technology in their own schools. The model, now called GenYES, is simple but deep. Students learn about technology, develop planning and collaboration skills, and learn about how people learn. After this, each student partners with a teacher in the school.
These student/teacher teams look at the teacher's curriculum and decide on a future lesson that could be enhanced with technology. The student then plans and creates the project, with the teacher providing the pedagogy and content. When the project is completed, the teacher has a lesson they can use in their classroom, understands technology better, and can directly observe the impact on students.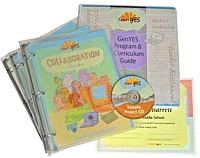 A single teacher or staff member at the school facilitates all of this as the GenYES teacher. We have a decade's worth of research that shows that this model improves teachers' use of technology in the classroom more than any other kind of professional development.
This partnership creates a collaborative learning community grounded in constructivist pedagogy. Both the student and the teacher are bringing important skills and knowledge to the relationship.
Improving technology use in schools is an authentic problem worth solving. Working together creates mutual respect and understanding about each other's roles. Administrators and parents love to see students bloom and teachers finally teaching with new technology.
Dr. Seymour Papert said, "The genius of this idea is that by contributing to solving a recognized problem facing schools, it rallies support from schools for something that goes against the grain of their traditional ways of thinking."
The model works because it facilitates a constructivist atmosphere in the whole school, not by teaching teachers how to teach, but by giving students an authentic problem to solve and asking teachers to help. It builds on the pedagogical models developed by Dr. Papert and the years of research about what constructivist teachers do in classrooms.
But we don't waste time drilling teachers about that - if you put the kids to work it happens naturally. It's what Dr. Papert calls, "kid power" in the OLPC plans.
We encourage our lead teachers to get students working on projects as quickly as possible - give them time and space, and create an atmosphere that rewards risk taking. Most of the time teachers tell us that GenYES starts to work when they "get out of the way." Kid power is real.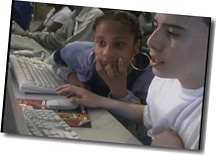 With respect to OLPC, I think there are several "lessons learned" that are transferable
Our model is successful because teachers love children. They became teachers to inspire and create the greatest range of opportunities for kids. Even if the system can sometimes squash that instinct, teachers will embrace anything that returns them to their passion for changing the world. The OLPC also offers that opportunity and will engage and inspire many teachers.
One of the roadblocks to our model in US schools is that there is not enough technology available for students, so teachers become gatekeepers. The OLPC solves that problem. There will simply be too much momentum to be stopped. Even if a few people oppose it, short of locking the computers in a closet, good things will happen with or without teachers. Learning will occur in the time the child spends outside of school. Parents and people in the community will benefit from access to the technology and the expertise of young people. Teachers will want to share that excitement.
Traditional models of teaching technology to teachers and hoping that it trickles down to the classroom have failed for 30 years in the US. Let's not pretend that this flawed model of teacher professional development will suddenly work if we just find the magic formula of teacher workshop content. It won't work and it's not worth negotiating.
Government and business leaders say and do a lot worse things to teachers than Dr. Negroponte who wants to create 21st century learning environments and has the guts, like Dr. Papert, to ask teachers to do better on behalf of children.
The gifts and passions of kids are leveraged and accelerated by the OLPC. It will be successful because teachers like kids and are willing to work with them. In other words, I find it hard to believe that teachers will reject the power being provided to children because of insecurity or pettiness or some squabble with Dr. Negroponte.