Hello, this is Alan Bell again. You may remember me from the "Help I haven't got an XO for BETT" post a few weeks ago. Well I can now report that this story has a happy ending.
The day after the article appeared on OLPC News we got a call from Tomi Davis, of OLPC Nigeria. Roughly speaking the conversation went "Would you like to borrow some laptops?" to which we replied "Hell yeah!"
Pre-BETT Prep
We (Tomi, The Open Sourcerer and myself) arranged to meet up the night before the BETT show, the laptops were pre-production Beta 4 models with rather old software so we worked with Tomi to upgrade them using a hastily purchased USB stick from a dodgy looking local shop (cash only - no change - lets just call it twenty quid - no, you can't have a receipt).
After a little while we had five happy laptops meshed up and we were familiarizing ourselves with the activities on offer. Initially there was a problem with the keyboard mapping in the new image, the H and U keys were both mapped to "u". After a bit of head scratching (key maps are under /usr/share which didn't help) Tomi got some help and a patch from the developers and we were soon up and running.
The laptops had a Nigerian keyboard layout (which in no way resembles the Konyin keyboard) and Nigerian power supplies which (thanks to the colonial history of the British Empire) happen to be exactly the same as the 240V 3 pin British power supply. For demonstration purposes we had to rename the laptops, so we settled on naming them after countries where the OLPC foundation is working. Knowing our stand at BETT was quite small, and that it would be rude to take all of Tomi's toys away, we borrowed three, "Nigeria", "Thailand" and "Uruguay".
As we were going to be passing IKEA our wives had kindly provided us each with a long shopping list, so we amused the other late night wardrobe shoppers by tapping out tunes with TamTam and measuring the restaurant with the acoustic tape measure. I typed up my shopping list whilst munching meatballs and then used an XO in tablet configuration as we hunted down our assigned items of inexpensive Swedish style. Next day was BETT.
Never a BETT-er Reception
We got there at ridiculous o'clock in the morning with the bag of laptops and found the Open Forum Europe stand. We were just about to arrange a small wager on who would be first to spot a teacher wearing sandals and a tweed jacket with leather elbow patches when the first delegates started to arrive.
"Wow, is that really an OLPC laptop? I have just seen it on BBC breakfast news! That is so cool, can I hold it? really?"
As far as we know we were the only stand at Bett to get pre-show publicity on the BBC. In the afternoon Tomi joined us at the show and we were interviewed on camera by the show publicity people (no idea if it was broadcast anywhere, but it felt to us like our first TV appearance).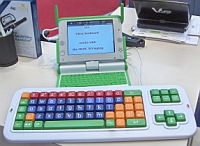 Keyboards for the visually impaired
Everywhere we went at the show people spotted the XO and started talking to us:
"Wow, that is so cool, can I hold it? really? It was worth coming all the way to BETT just to see that".
I took one of the XO laptops on a grand tour of the show, taking in such delights as the Special Educational Needs zone where we tried the XO with some interesting peripherals like a chunky keyboard and a Braille reader. The XO does work with various assistive technologies, it is ready for use by the whole class including SEN students.
The RM stand was very big and impressive, they had lots of the Asus Eee PC laptops on display, I noticed that they were all locked down to the desks, it seems you just can't trust a room full of teachers! The XO stopped here for a cheeky photo, then I ran away.
One of the big news items at the show was the new report from Becta (the UK advisory body to the UK educational community) on Microsoft Vista and Office 2007. From reading the report it would seem that schools should welcome Office 2007 and it's OOXML file format with about as much enthusiasm as they welcome head lice. OOXML - as welcome in schools as a head lice infestation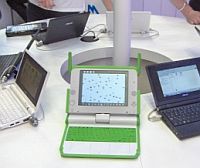 Look who dominates
I visited the Becta stand and was instantly mobbed by the stand staff when they recognised what I was holding. They had loads of questions about the laptop and the OLPC mission, they were talking to someone from RM (or possibly Asus) about the Eee PC and he had quite a lot of questions about the XO. Suddenly a big camera arrived and we were told that the CEO of Becta was doing a live interview for BBC News 24 right now.
They wanted some people in the background chatting and looking busy so I grabbed the XO and moved to where the bloke from the BBC was directing us. The chap from RM (or possibly Asus) quickly joined our little crowd of extras and then stood with his long coat held out wide like a flasher directly between the XO and the camera. I smiled and carried on answering questions from the Becta guys.
Building a BETT mesh
On Friday we were very pleased that Francois Brutsch (who commented on the previous article) joined us on the stand with his G1G1 XO, he attached to the mesh and made friends with the other laptops in no time and worked with Frank Margrave to get several shared activities running. There was a constant stream of visitors to the stand including teachers, ICT coordinators, head teachers, Ofsted officials, other exhibitors and the occasional Minister of state.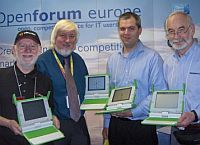 XO laptops everywhere!
Everyone had questions, generally starting with "Can I hold it? Really?" then moving on to the "what was that Intel thing all about?" question and the "can I buy lots and lots right now?" question. (answers: yes, yes, they stormed off in a huff but we don't care, no).
Several teachers told us that over the last few years UK schools have drifted from "teaching" to "training" and they want to move back to getting kids excited about exploring the world using computers rather than "preparing them for the workplace".
Big thanks go to Tomi Davis, Stephen Aitkin, Bob Blatchford, Nick Wood, Alan Cocks, Frank Margrave, Mike Banahan, Alan Lord, Francoise Brutsch and OLPCNews.com for working together to make this happen.
Do you have an OLPC-related activity too? Want to have the support of five thousand global readers? Then be sure to write a Guest Post for OLPC News today.