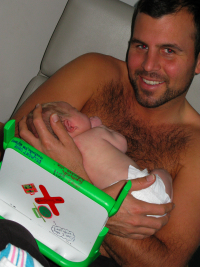 Hanalei and her XO
On Saturday, I introduced the XO laptop to the youngest OLPC participant ever. At less than a day old, my daughter Hanalei was learning and exploring with Sugar.
Or at least I tried to show her daddy's obsession. But so far she's a little resistant to its hard surfaces. When I put her soft bottom on the keyboard, even after it was warmed with daddy's hands, she let out a cry.
With software, I'll have to wait six months before she can enjoy Speak or other activities. "What's Going On In There" (great book!) says that until then, her mind is too undeveloped to benefit from such interactivity.
Still, I can't wait to watch her grow up with her XO.