Today I came across an interesting blog, "XO's in Honduras" by an ex-OLPCoprs Peru volunteer. She's a public school teacher in Virginia, who is starting a small XO laptop pilot program in rural Honduras. She's blogging about her efforts, with interesting posts like this excerpt of one below. I'd suggest you take a look at her efforts and see if you can help out.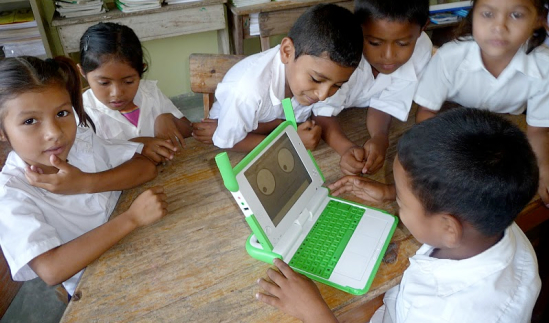 After recess and a snack, I gave an XO to each family with their names already saved in the computer. At the moment there are 29 students and only 20 XOs. Hopefully we can get some more later. The teacher and I talked to students several times about how to take care of the XO when they take it home. We don't have any spare parts here, so we are out of luck for the moment if anything gets broken.
Then for the rest of the school day I worked with the younger students and the teacher joined us so she could learn too. The older students had an assignment to work on by themselves. While they worked, I called students over one at a time to teach the younger students. That way I could be more of a helper and the older students got practice being in front of a group and explaining what they had learned in the morning. It worked pretty well.
As the students were leaving at the end of the day, I told them I would find out what the best way to clean the screen is so that we don't end up making them worse than they already are. One student asked if it was better to recharge the XO when it was turned off than when it was on. I thought that was a good question. I told him turned off, although I don't know if it really matters. I was satisfied with how things went. Later in the evening the teacher got a phone call from one mom asking how long it takes to recharge the XO.
Tomorrow there is no school because the teachers have a special activity selling food to the community. It is the Day of Lempira, a famous indigenous person who fought against the Spanish. Wednesday morning the parents are supposed to come so the teacher can talk about what needs to be done to get the electricity installed. My plan is to review what we have learned and introduce new activities a little at a time. Maybe by the beginning of August we can work on some of the more challenging activities like etoys and Scratch.
I did run into one technical problem today that I haven't been able to fix yet. One of the laptops being to boot and then freezes and never continues. I reflashed it and it did the same thing. Tomorrow I am going to check if I updated it to the q2e44.rom file. Other than that I don't have any idea what to do.
Read more about XO's in Honduras.