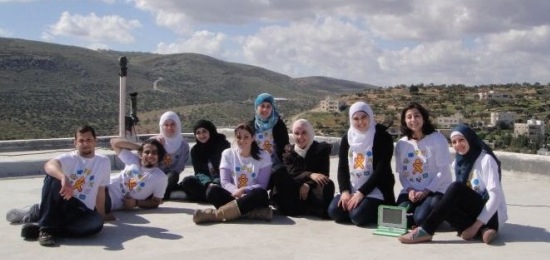 Apparently Rasha Hussein journeyed with OLPC and PaleXO over the past year in Ramallah, a Palestinian city in the central West Bank. From all of her travels, she was able to put together a single blog post, with marginal new information. Here is a taste:
I am going to talk about this awesome group that inspired me. Joining it was the first step into engaging in the community activities.

It was the beginning of the year when I saw a post on facebook about a workshop for teacher to teach them how to use this green little laptop that's part of OLPC program (one laptop per child), I learned that any volunteer is welcome to join this group, so next day I went to talk to the girl -Noura Salhi- who posted it, and I told her I am totally in. I wasn't that good as a student, and I skipped lots of classes, and this girl told me that they need committed people and there's a lot to do, and that maybe I should give it a thought before going into it, cause they don't need people just for the number.

I insisted on joining in, as I loved the idea, and I knew I would add a lot to this group, and my journey started.
Yeah, like it was totally wow for her! And like, if you compared that one, brief post with, like, all the work of Christoph Derndorfer over just two months in South America, she was like totally slacking!