On of the more interesting quotes in the AP article on OLPC's Sugar UI, is one by Nicholas Negroponte about Microsoft Office training in the developing world:
"In fact, one of the saddest but most common conditions in elementary school computer labs (when they exist in the developing world), is the children are being trained to use Word, Excel and PowerPoint," Negroponte wrote in an e-mail interview. "I consider that criminal, because children should be making things, communicating, exploring, sharing, not running office automation tools."
I find it interesting because those very students and their parents do not see learning Microsoft Office as criminal. No, they see it as a great opportunity. A wonderful experience that will help the students in one very important way: it will get them a job.
Or as Ethan Zuckerman's says in "Ubuntu, and the ongoing difficulty of marketing free beer":
The obstacles to adoption of open source software in the developing world are myriad. Yes, there are countries like Brazil and China that are making governmental investments in open source. And there are organizations like the Shuttleworth Foundation - main sponsors of Ubuntu - who work hard to make open source software available and useful.

But there are lots of other countries where the reason to get a computer is so that you can develop marketable skills so you can get a good job with an NGO or a branch of government… which means you need to learn the software your potential employer uses… which ain't Gimp.
For better or worse, today that is Microsoft Office. That is what employers know. That is what employers ask for in their employees. That is what students learn to become employed. Microsoft Office, Windows, and Windows-compliant software skills.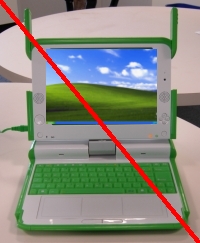 Just say "No" to XP clones
Now don't get me wrong. I am no fan of Microsoft, and I couldn't think of a worse misappropriation of the Children's Machine XO than to make OLPC XO yet another Windows clone. But then again, not teaching a valuable skill that may be the difference between feeding your (extended) family or unemployment because of a philosophical difference, is only a moral dilemma to the rich.
For the people I know in poor countries, they do not care if the user interface is Windows, Ubuntu, or Sugar no matter how open the source code or collaborative the design. They may not want to "learn learning"; they will want to learn practical skills that will get them a job.
Even Dr. Negroponte understands this - he added the Secure Digital (SD) slot just for Microsoft. His quote:
"We put in an SD slot in the machine just for Bill. We didn't need it but the OLPC machines are at Microsoft right now, getting Windows put on them."
And that openness is what we should all keep in mind: The goal is increasing national educational, economic, social development on a global scale, using practical and appropriate technology. Not investing in technology for technology's sake, blinded by ideology.