Recently I was reading an XO Tablet review on Amazon, where Ram Dash is disappointed by the "horrible mishmash" of free applications on the XO Tablet. He was frustrated because the apps are not organized per age or grade level and most of them can be downloaded on the PlayStore for free.
He concludes his review by saying: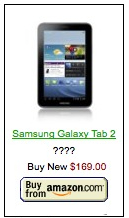 "Please do yourself a favor. For $10-$20 more, you can get a much better tablet such as a Kindle Fire HD or Samsung Galaxy Tab 2 (7-Inch, Wi-Fi) available here at Amazon. I've used Galaxy Tab before and mostly liked it."
Ram offers an interesting comparison I've heard a few times before. So let's do a side-by-side review of each device: XO Tablet, Kindle Fire HD, and Samsung Galaxy Tab 2.
Hardware
The Kindle Fire is the only one with a HD screen, so it has a lead there. The Galaxy Tab is arguably the nicer looking device, but to be honest, all three are pretty much the same rectangular slab of glass and dark metal. The green bumper on the XO Tablet does appeal to kids, even as a teathing ring. But that green bumper would fit on any of the tablets.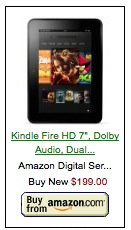 Software
All three devices use Android, but the Kindle runs its own Android variant that is designed by Amazon. The XO Tablet has an additional special kid-friendly user interface that hides many of the administrative features and sorts the apps by activity areas and skill levels (see all the options thanks to Mike Lee).
Apps and Content
The Kindle Fire can connect to the Kindle store and of course Amazon, so there are a good number of apps and a huge content selection to choose from. Both the Galaxy Tab and the XO Tablet can connect to the Google Play Store so you can download whatever apps you want. However, only the XO Tablet has 160+ apps already installed and 100 books in English and Spanish.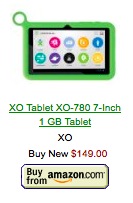 Price

On Amazon, the XO Tablet is $149 and the Samsung Galaxy Tab 2 is $169, while the Kindle Fire HD is $199. A more price competitive Kindle option would be the Kindle Fire 7 at $159. So they are all in a relatively close price range with each other.
Conclusion
Not only is the XO Tablet the cheapest option from the start, it comes with a solid selection of apps and content, a child-friendly UI, and a green bumper to differentiate it from all the other tablets on the market.
So to Ram Dash, I say you can keep your Kindles and Tabs, they are great for adults who want to fiddle with technology. But if you are buying a tablet computer for children who want to learn or parents who don't want to spend hours downloading and organizing apps, the XO Tablet is the easy choice.