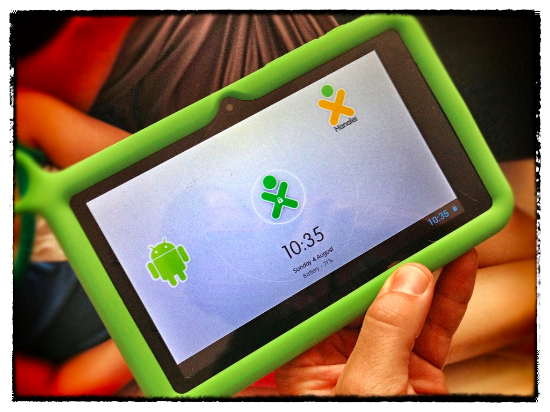 I am Edward Lukacs and I have from the first considered tablets to be excellent playthings for those who use computers as adult toys. For adult work, on the other hands, they might best be considered large mobile phones for people who want to check email, etc. Secondly, the XO Tablet violates the most fundamental concepts of the original One Laptop Per Child concept, i.e., the use solely of open source and free-ware programs, to be added to a worldwide repository of instructional materials by people in the field.
I use a laptop as a convenient vehicle for writing fiction and for general written email communication. Actually buying a computer without a keyboard never entered my mind; for serious work the idea is absolutely ludicrous. In fact, I have retired my modern HP laptop for an older and upgraded Compaq Presario B2200 in order to get away from the idiotic 16:9 screen format and back to a more usable 4:3 shape, so much better for word processing.
A Dumbing Down
In both cases, the XO Tablet and the newer wide format, the idea seems to be to optimize things for the entertainment of "The Great Unwashed" over their serious use in productive work. To which I add about the tablet that its sale in mainly the US market and with English software, with the active discouragement of foreign language software contributions is somehow appropriate.
After all, how else is a semi-literate American going to convince him/herself that they are teaching their child when in order to operate a true laptop, the adults might actually need to be literate? No, the organization has apparently decided to cash in its chips after making a lot of self-serving noise while simultaneously proving inept at their main mission, i.e., to make available and distribute at least a few hundred million XO-1x models to an easy billion waiting students instead of a few million.
A Return to Original Ideals
OLPC was good idea, a superb one, in fact. Why has it not succeeded? Could it have withered and died at the hands of officious do-gooders with an ego problem? Probably. But perhaps it might be possible to get the original concept on track by starting over.
ARM is going to produce an energy-efficient 64-bit processor, with prototype out this year. Perhaps the original case could be used, with a drop-in replacement motherboard with a huge (and far cheaper than in 2007) amount of memory and a modest solid-state drive? I cannot imagine that such a board could not be made now at a far lower cost than the originals seven or eight years ago.
Maybe, just maybe, if the work were done by good engineers, and in the back room and not in the educational reviews, a better and cheaper product could be produced, and in a more reasonable time. Then if politics and ego are removed from the distribution process, perhaps more of them could actually get into the hands of the children and teachers who actually need them? I think so, on both scores.
And truly, if we are ever to civilize this world and live in greater peace and harmony, it can only be done by educating every single child to the limit of their capacity.