This post originally appeared on opensource.sfsu.edu and is reposted here with Sameer Verma's permission.
55,000 Sugar/GNU/Linux XO machines are being shipped every month to kids all over the world. This is a generation getting ready to break the bonds of digital dependencies and building a commons for themselves on free and open source software and open content and standards. In the meantime, Microsoft announced a pilot study to run Windows XP on these very machines.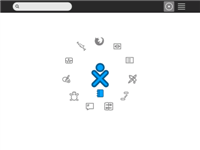 Sugar's new Home-View
So, let's do a quick comparison:
Sugar is built on top of Fedora 9, the current and cutting edge version of Linux from RedHat, which then in turn creates its commercial platform based on Fedora releases. So, with Sugar, you get fresh code. Windows XP is from 2001. I was much younger then and had no grey hair. Even at that, it is some specialized version of XP that you can get only if you are a third worlder. Its called Windows XP UP where UP stands for Unlimited Potential. Unlimited potential for whom? The users or the company? XP is no longer sold in the US, so the revenue er, I mean "potential" has to come from someplace else.
Sugar provides an environment for native collaboration. Native, as in innate. Inborn. Coded in the DNA. You can play games together, write a letter collectively, take pictures, and share in a couple of seconds. With XP UP, you'll have to get those at an extra from somewhere...if someone actually sells software like that!
With Sugar, everything you do is automatically saved in a journal so that you can recall it later. XP UP? No such luck.Be happy if it doesn't lose your files (I speak from experience).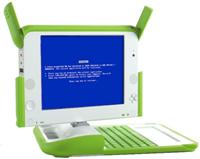 Green Screen of Death anyone?
Child-friendly? Kids love Sugar. I've seen it myself, and so have the Nepalis, Peruvians, Uruguayans, Indians, Nicaraguans, and many more communities. XP? Even grown ups have trouble liking Blue Screens of Death.
I usually pass on Microsoft bashing. I haven't used their products for a very long time. But in this case, I have two problems:
The XP UP option brings with it MS Office (or so I hear) and so we have a production-oriented operating environment shrunk on a small laptop for 5 year olds. How vocational! The hope is that they will grow up into software labor. If you take a look at Sugar, you'll notice that its all about learning, exploring, and discovering. No wonder it brings the child out in many of us.
Malware is at its peak. We get junk mail every day. Thankfully, my systems don't get touched because...well they just aren't ripe for infection. But, imagine a legion of laptops around the world, running an outdated system that remains unpatched at best, spewing malware! There is a reason why such systems are called zombies! Do I really want that barrage of junk in my Inbox everyday? Do we really need help in that department from thousands of XO laptops gone XPUP?
No, Thank you!!!
Now, I'll get of my rant horse and do some real work. Time to get the Software Freedom Day flyers printed and uploaded. Let the masses make the decision. We report, you decide ;-)
Sameer Verma is an Associate Professor of Information Systems at San Francisco State University and organizes the monthly OLPC-SF meetups.