I am Monkey Boy and I wish to add more than my own complaint. I feel I need to add some commentary of my own at this time.
The way to beat Microsoft is to one up them always and consistently. Yes, Microsoft can reach out to media with their own spin and even stoop to graft and corruption of third world political figures to bend the truth as far as they think it will aid them. I do not accuse them of this ugliness; I just want to state that they have the ability to do such.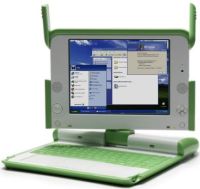 Putting XP on the OLPC right now will show the platform as being less capable than Sugar. It is the same thing that Linux does with Vista.
Show the computing results and let people decide. Sure, if Microsoft resorts to negativity and the lure of money, eventually it will be found out. How much negative press can one company withstand?
The EU right now has its eye on the company because of how the operating system bundles components that violate their trade agreements. They won in court and Microsoft cannot buy their way out of that. The third world countries do not have a functioning body like the EU but is it the market they would rather have? (EU or Africa?)
Instead of FUD, I propose this: ask Microsoft to join in and play in the OLPC space.
However, it is with this caveat - any OS or productivity suite cannot add $$$ to the cost of the machine. In fact, I challenge Microsoft to offer an "altruistic" image (OS and productivity) for the OLPC that conforms to GPL v2 licensing. That's right, open source! I do not think it would hurt their business model to create such a narrow use platform. If anything, the bet is to see if children get so used to the "Microsoft paradigm" on the OLPC that they would naturally choose to buy a Microsoft system when they outgrow the OLPC.
If Microsoft does implement a "slim client" for the OLPC that has [mostly] GPL code, then the community can truly test apples to apples with verifiable results. And giving people choices is a good thing. In fact, it is the best thing.
As for Sugar and the current OLPC development crew, there needs to be less negativity about others and more heads down work. The OLPC is still not at the $100 price point. More applications still need to be written. Distribution models and closer ties to the public and government officials need to be worked on. There is a lot of work to do. I am not denigrating this version of the OLPC. I think it is remarkable that what was once a vision, an idea, actually has real deliverables and works! This is amazing and nothing should detract from that.
If we outside the project believe in the mandate, then we too should work to accentuate or live up to its guiding principals. I myself pledge to let as many people I know about this machine. I also pledge to take the OLPC I will be getting and investigate it, not as a toy, but as a platform that I can grow and add to the community in both programmatic and heuristic avenues.
Believe me, it is tougher to provide value and opportunity than it is to develop ad hominem attacks. But if the OLPC fails to gain market share, it shouldn't be because of a lack of trying on our part.
This post was first summited as a comment. If you find yourself writing a comment this long too, think about submitting it as post instead.