I've been happily running the cutting edge "faster" builds over the last couple of days to see how the most recent improvements, especially when it comes to the re-design of the Sugar UI, are coming along (more on this topic soon). At the same time OLPC is also very busy working on the 8.1.1 (build 708) bugfix release. Among other things power-management has received some more attention, security has been improved and the pen tablet (stylus mode) can now be used to move the cursor.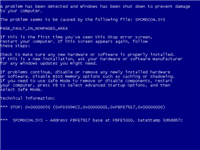 Help avoid this!
In order to facilitate widespread testing of this release candidate OLPC has made a signed version of it available, therefore allowing everyone, not just people with a developer key, to thoroughly test this build. In an e-mail to the developer's mailing-list Michael Stone wrote:
Next, PLEASE SHOUT if you experience a regression in connectivity from 65x to 70x. (We've got another G1G1 visible on the horizon and we'd really like to know about connectivity problems as soon as you can tell us.) If you wish to help perform this testing (or to verify the fixes for specific issues), please record your results at http://wiki.laptop.org/go/OLPC_SW-ECO_5
Especially when it comes to connectivity OLPC can't possibly test and evaluate all the routers and firmware versions out there, an in-house approach is simply not that scalable. So tapping the community as a testing resource allows OLPC to gain a much broader understanding of potential issues which can then be addressed. Finding these issues in advance has a direct impact on all XO users, regardless whether it's a G1G1 donor in North America or a child in Peru.
See Michael's e-mail, read the 8.1.1 release notes and record your results here to contribute to OLPC and help all of us using an XO by testing this build!