Fresh off the Sugar Labs press release is a new version of the Sugar Learning Platform for children. Sugar v0.84 represents the expansion of Sugar beyond the XO-1 - it is packaged in GNU/Linux distributions, it runs under virtualization on Macs, and most of all, its a big step in getting closer to Sugar on a Stick which will boot those older classroom Windows PCs and newer netbooks.
Wondering what might be different about v0.84? Well the Sugar Labs leader Walter Bender says that this new Sugar Learning Platform has: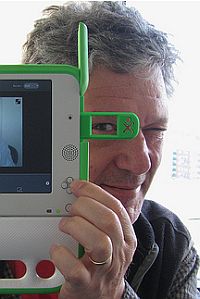 Looking at Sugar Learning Platform progress
"Great new Activities for kids to explore together such as a Mindmap Activity, a critical-thinking tool used to create diagrams representing words and ideas around a central keyword, and a Portfolio Activity, an assessment tool that makes it even simpler for teachers and parents to review a child's progress.

The Sugar Journal, which provides automatic backup and history of students' work, has new features to make it easier for students to annotate their work and to revisit and revise past projects. The new Infoslicer Activity enables teachers to quickly and easily select web-based content to edit, package, and distribute as teaching materials. And for older students curious about how computers work, the View Source function is now universal to all Activities."
I say that Sugar has amazing reach. Just with the XO laptop, almost one-million students aged 5 to12 in over 40 countries and 26 languages are "learning learning" every school day. And with v0.84 we're about to see a jump in Sugar Learning Platform adoption through Sugar on a Stick.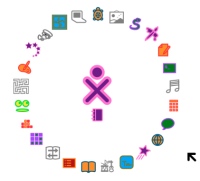 Sugar on a Stick v1.0, a liveUSB, is scheduled for release in Q3 2009, which means that Sugar can run from a simple USB memory stick on nearly any recent Windows or Mac computer, and most older PCs as well. The OLPC Learning Club DC already found SoaS is blazing fast on netbooks.
And its time for developers, designers, translators, and deployers to get blazing fast in helping make the Sugar Learning Platform and Sugar on a Stick a success. Ready to help out?
Download & test the Sugar Learning Platform v0.84 right now!