At the end of April, 2008, I left my position at One Laptop per Child in order to help launch a new foundation, Sugar Labs to serve as a support base and gathering place for the community of educators and software developers who want to extend the Sugar learning platform and create Sugar-compatible applications.
As we recently announced our official status as a member of the Software Freedom Conservancy, I thought I would use the occasion to recap the highlights of the past six months.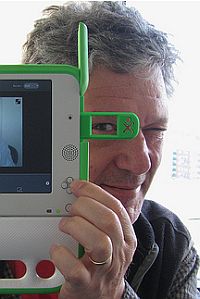 Walter Bender of Sugar Labs
Even when I first started working on the One Laptop per Child (OLPC) project, in 2005, prior to our spinning the project out of the MIT Media Lab, the mission was clear.
Although the idea of a "$100 laptop" was what got all of the media attention, the project was from the beginning unequivocally about bringing to scale everything we had learned about learning to learn over the course of 40 years of research and development at MIT. It was then and remains today an education project.
While OLPC has still not gotten the price of a laptop below $100 (one could argue that the "give" laptops from the G1G1 program in fact cost $0), they have had enormous impact on the computer industry: it is not hyperbole to credit them with launching the netbook category and also putting downward pressure on laptop prices in general, making them more within reach to more people.
They also have made important innovations in displays, power management, and "green" computing. An important by-product of their success is that people are not just talking about one-to-one computing; they are beginning to take action, creating educational opportunities for children all around the world by providing each child with low-cost laptops.
Sugar, originally developed for the OLPC XO laptop, provides a simple yet powerful means of engaging young children in the world of learning that is opened up by computers and the Internet. With Sugar, even the youngest learner will quickly become proficient in using the computer as a tool to engage in authentic problem-solving. Sugar promotes sharing, collaborative learning, and reflection, developing skills that help them in all aspects of life.
We developed Sugar as a free software project, not just because we believe that is a superior (technological, economic, political, legal, and moral) framework for software development, but also because learning wants to be free (as in speech). Our goal has been to imbue into the education industry the culture of collaboration and critique that go hand in hand with free software.
We created Sugar Labs in order to ensure that as more children have access to computing, they also have access to software designed for "collaborative, joyful, self-empowered learning," regardless of the make or model of the computer, or even whether or not it is a laptop, a desktop, or even a thin-client device. We did not want Sugar to be confined to just one platform, regardless of its merits.
Since we created Sugar Labs, the Sugar Labs community has been refining Sugar and the Sugar community is growing as it purses additional opportunities for getting Sugar into the hands of children. (The community also continues to work closely with OLPC in support of its learning mission.)
Milestones in our first six months:
We released Sugar 0.82, which includes many significant improvements to usability and stability relative to previous versions;
We put into place an infrastructure in which to sustain development, including a wiki, trac system, planet, a git system (we are in the process of migrating to gitorious);
We have a governance model, well-defined technical and pedagogical goals, and a clearly stated set of principles of operation;
We have organized community-run teams to manage everything from infrastructure to marketing and development to deployment; we have regularly scheduled open-meetings where we share and critique our work and reach consensus on our goals and means;
We have input from an animated and critical group of educators who are both embracing Sugar and pushing us to make it better (and are even beginning to submit patches upstream!);
We held a week-long Sugar Camp, which had participation from developers and educators from around the world;
We have a graphic identity and are beginning to have a distinguished brand;
Sugar is now packaged with many of the major GNU/Linux distributions, including Debian, Ubuntu, and Fedora;
Thus, Sugar can now run on almost any computer hardware (If it can run GNU/Linux, it probably can run Sugar);
Sugar is now available (alpha version) as a LiveUSB image ("Sugar on a Stick") that gives children access to Sugar on any computer with just a USB key, making Sugar that much more accessible.
But perhaps most significant is that there are now close to 3⁄4 million children using Sugar and there is concrete evidence that they are learning.
What is next?
In the next six months, the creation of local or regional Sugar Labs is a priority. We look forward to a "federation" of Sugar Labs, each one autonomous, driven by local priorities and pursuing a local set of goals, while sharing a common set of principles, working with the global Sugar community, and contributing to the "upstream" project.
We also have much more work to do on continuing to evolve and improve Sugar itself, on streamlining Sugar deployments, and on developing and spreading best practices for using Sugar to have the most positive impact on learning.
I want to take this opportunity to thank the Sugar community for their efforts. Together, we are making a positive change in the lives of children.