In the New York Times article Nonprofit Laptops: A Dream Not Yet Over, we are teased with the suggestion that next month we'll have the OLPC 1.5 in production, with double the speed and four times more memory than the XO-1.
Before we get geek lust for OLPC hardware, I'd like to congratulate Sugar Labs on its software - the ever demure Walter Bender let it slip this week that his team has passed a very important psychological milestone:

1. I had been meaning to mention that already several weeks ago we exceeded one-million downloads from activities.sugarlabs.org. We are now over 1.1 million.
While you can't assume one Activity per child, this statistic shows that the 1 million XO laptops in the hands of children worldwide are being updated with the latest code - those 1.1 million downloads can't be from G1G1 donors alone. But it does make me ask a few questions: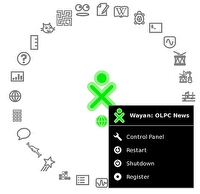 From which countries are the most downloads coming from? Is Uruguay leading in yet another level of XO laptop usage? Or could Rwanda or Peru actually be beyond even the USA in Sugar activities?
What is the most popular Activity overall? Most popular Activity standard with XO (denoting updates)? Most popular optional Activity (showing exploration)?
What's the download numbers for Sugar on a Stick? Could SoaS + Sugar on XO laptops be 2 million people "learning learning"?
Regardless of the answers - congrats again to Sugar Labs and their increasingly popular Sugar Learning Platform.