To build a set of books in five days takes a lot of preparation work that Adam Hyde, founder of FLOSS Manuals, described in a prior post. Christoph also encouraged me to talk about what it was like to participate as a writer in the Book Sprint. Over all, it was very similar to a footrace of the same name, hosting a group of writers in a room cranking out as much usable content as possible!
Here's how the week went. After our planning session on Sunday we were ready to start writing immediately. Monday, Tuesday, and Wednesday were heads-down writing days from about nine in the morning until our stop time at six each day. We brought lunch in most days, and we had a daily conference call so that we could stay in touch with the handful of remote contributors and find out if anyone was stuck or had questions.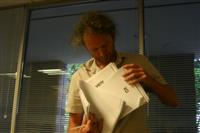 Displaying the results of the Sprint.
We had one room where we all gathered and could ask and answer questions across the table. It was so valuable to have OLPC and Sugar experts on site. One day, coincidently, NPR had a story about OLPC on Morning Edition and we all listened to it. I even gave the journalist who filed the story a comment on his blog entry.
We had other areas that were "quiet" areas that you could go to when you needed to do heads-down writing, reading, reviewing, testing, or editing. I found myself buckling down a few of the afternoons, with a bunch of example books from Walter Bender, spread out in one of the additional conference rooms.
We also had a virtual room with someone monitoring the olpc-content IRC channel where Adam answered technical questions at all times. FLOSS Manuals technical programmer Aco also worked in conjunction with the sprint, even updating the notification e-mails and the image upload workflow as we sent in requests.
As a host location, Motive (the company that allowed us to use their executive training facility for the Book Sprint) was wonderful, giving us unlimited snacks and a fully stocked refrigerator plus Starbucks coffee that we could keep fresh all day by brewing.
We had local writers and OLPC enthusiasts come and help as well, by working on the style guide and editing according to the style guide for starters, and also testing instructions after they were written.
Don't get me wrong, the week wasn't all work and no play. Sunday night we went to a lakeside coffee house near downtown Austin with the Austin XO-users group. Wednesday night we had a fun time together with a poolside cookout. We stayed extra late Thursday night, sprinting to the finish. Friday was a clean-up day and we printed all seven books for proof-reading.
We have lots of lessons learned to share and hope to document all of the Book Sprint in a manual on FLOSS Manuals so that other groups can use this model to crank out books of their own!
For your information: The books are available to purchase now at en.flossmanuals.net/bookstore, and you can even host your own virtual bookstore by using the code on that page. We'd love to have you join the free documentation for free software movement!
Anne Gentle works as a senior technical writer at Advanced Solutions International by day, a mom by afternoon and early evening, and fills up the rest of her time with crafts and volunteer projects. She's a volunteer maintainer of the One Laptop Per Child user manuals housed at FLOSS Manuals. She has learned so much about using wikis for documentation and community involvement from working on this project that the time invested has paid back with interest.