When Karlie Robinson, my wife and the owner of On-Disk.com, was preparing for a recent trip to Boston she asked me, "Can you put something on the XO so I don't need to take my laptop?". My first thought was, sure...um...maybe, which is exactly what I told her.
If she wasn't going to be meeting with OLPC representatives, among others, I would have most likely asked if she could just get by using her Nokia, so i was in a situation where I had to at least try... even though I only had a few hours before she left.
Fedora 10 Was Not an Option
Now, we do have Fedora 10 SD Cards for the XO which we provide at the request of the Fedora Project and OLPC, however they take a while to boot. It is also quite slow due to the limitations of the XO, and the system can become unresponsive if you exhaust the physical memory. I personally had the F10 SD Card on my XO for a period of time, but eventually preferred to go without as opposed to waiting for it to boot and being careful to only open one application at a time.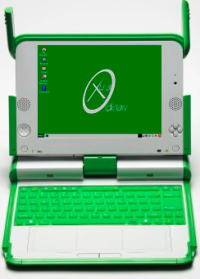 Karlie on the other hand has far less patience with her computers, so the Fedora 10 SD Card just wasn't a viable option. I had seen some other operating system alternatives for the XO, but they were either as stressing as the Fedora option, or were quite incomplete.

Making Xtra Ordinary XO OS
I finally settled on DebXO but not before changing out most of the existing software which was obviously selected based upon speed and low memory usage as opposed to being particularly useful. I spent a few minutes making sure the applications worked after importing her email, browser, and messenger settings. Then she immediately packed the XO.
The next day, Karlie wasn't in Boston more than a couple hours before I got a call telling me she made it safely, and that the XO would lock up when connecting to the WPA network at the Hostel where she was staying.
Later that evening, after getting our two sons (ages 4 and 6) in bed, I decided it was just TIME to have a real, viable, operating system alternative for these nifty little machines. This thought was powered, in part, by my growing frustration watching the Fedora-olpc developer mailing list, and waiting for the promised Fedora 11 release for the XO...a release which appears may never come.
This isn't really the fault of the Fedora developers who are simply placing the priority where it should be, upon having the new OS ready for the next XO-1.5 hardware version. So I had two choices, (1) delegate the XOs we currently have to simply being used for demonstrations, or (2) build something that would satisfy our needs and enable us to actually use our XOs in a meaningful way...obviously I chose the second option.
As far as the actual development, I started with a Debian XFCE version I found in the OLPC wiki. From there I ripped out everything except the base system, which was then updated to the current Debian 5.0.2 version. After that I installed LXDE, a couple of Gnome utilities, then the software which is most commonly used by Karlie and me. From there it was themed to look like it belonged on the XO, and designed to be as "ordinary" as possible, thus it was named "Xtra Ordinary". The entire process took me all week, working on it in my spare time after taking care of the boys, doing the house keeping, and taking care of both Karlie's and my own daily workload.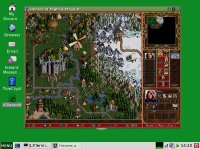 Complete at last
I was very happy with the final product: Xtra Ordinary 2009 SD Card for the OLPC Laptop. My XO now sits on my desk, between my monitor and keyboard, and is in nearly constant use. I have even used it to power our disc printing equipment, and play Heroes of Might and Magic III (the Linux version), which is our all time favorite game to play together.
The future
There are a few possibilities for future Xtra Ordinary projects. Among the ideas currently bouncing around are:
Xtra Ordinary Terminal Server: We (On-Disk.com) have already been planning an instant Linux Terminal Server using our Live technologies. Due to the popularity of Xtra Ordinary, it will most likely be an Xtra Ordinary-ized version.
Xtra Ordinary for PCs: An Xtra Ordinary version for PCs could include the option to use Xtra Ordinary, or the Sugar desktop when logging in.
Xtra Ordinary for Netbooks?: This would fall into place only after completing the above, however may be a bridge we could cross over when building an Xtra Ordinary version for the XO-1.5.
I would really like any and all further Xtra Ordinary products to be two sides of a coin. They could all contain a Sugar learning environment for children, as well as a very "Ordinary" desktop those who have become accustomed to using a desktop other than Sugar and now find using Sugar to be more difficult.
Epilogue
In all honesty, creating this OS isn't a big deal. The technology to do all this already exists, and there are several Linux distributions capable of doing everything mentioned above, and then some. I would hope this project can inspire a little more participation within the open source, and particularly Linux, community.
I understand the tendency to think of OLPC as being an Open Source leader in education, but OLPC needs more than our admiration for what they are trying to do, they need participation. We must remember that any Open Source project is only as strong as the volunteers who participate in the innovation.
Todd Robinson is the Systems Development Engineer for On-Disk.com which is a champion of Open Source software