Two evaluators recently returned to OLE Nepal's office after two weeks at Nepal's pilot schools. They are working on an early qualitative evaluation based on interviews with teachers, parents, and kids participating in the pilots. I have found the insights and feedback they brought back incredibly useful. This article will focus on one particularly consistent piece of feedback from the teachers: They want built-in lesson plans for activities on the XO and they want it explicitly defined in the lesson plans which learning objectives in Nepal's National Curriculum the activities satisfy.
The Nepali NGO I work for, OLE Nepal, has put a lot of work into developing mathematics and English activities that are both constructionist and match Nepal's national curriculum. Still, there is much we have to do in order to scale constructionism from a few pilot schools to the national level.
Why is this Important?
Teachers can make or break any attempt at educational reform and OLPC will not be an exception. Duh! We have to do everything we can to support and encourage them. Don't get me wrong, there are many fantastic learning activities on the XO such as EToys, Scratch, Measure, etc. But out of the box none of them - with the exception of the MaMaMedia activities - comes with built-in lesson plans and correlations to country XYZ's national curriculum. Please note that MaMaMedia has done a great job of integrating lesson plans into their activities.
When you look at the XO, you see a lot of attractive activity icons but no logical path or next step. This is great for discovery but problematic for a teacher trying to include the XO into regular classroom instruction. OLE Nepal's development team tried to make this easier by grouping the E-Paath activities by subject and by grade. We also added a help icon to each E-Paath activity that clearly explains the purpose of the activity and which objectives it satisfies in the national curriculum.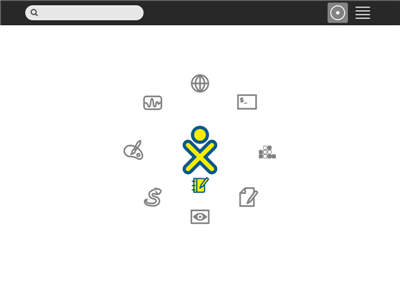 This still isn't enough. Teachers are usually excited when they first see EPaath but then daunted by the work of integrating it into the classroom. We have looked at building lesson plans and other supplementary materials into our activities but this has turned out to be more technically challenging than we thought it would be.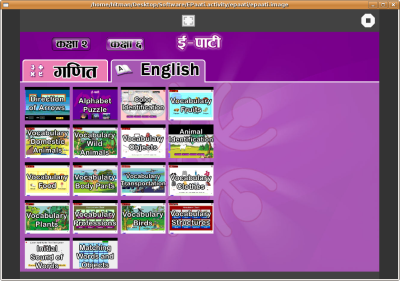 No One True Activity Programming Platform
We chose EToys as our development platform, because it 1) has a graphical development environment 2) is fully extensible in powerful Squeak-Smalltalk and 3) can access the XO's underlying hardware and Sugar's presence service. Bert Freudenberg has put in an incredible amount of work to make point #3 possible. Unfortunately, Etoys are not the ideal tool for linking and embedding different types of content such as pdf's, flash animations, and python activities. Lesson plans together with activities and supplementary reading materials quickly grow into something much bigger, full-blown courses.
As much as I love EToys, I do not see it or any other programming tool emerging as the standard programming platform for activities on the XO. Since the beginning of Sugar, many have championed python together with pygame but it lacks a graphical editing environment which makes it far less productive than EToys or Flash for designing graphics heavy activities. Flash is neither open-source nor can it access the XO hardware but a lot of people know it and a large # of open-source educational software packages use it heavily, such as the excellent eShiksha and Nortel LearnIT.
For the foreseeable future creating courses for the XO means stringing together activities written in Squeak, Python, and Flash.
HTML is the Answer
So how can we best link and embed different kinds of content into a compelling courses? The answer is literally staring you right in the face. Good old, boring HTML won't be the subject of any new computer science doctoral dissertations but it is the right tool for this job.
I have a lot of ideas on how HTML and particularly Moodle can be used to create compelling courses that empower teachers but that will be the subject of my next post.