Consider Yuriy Gusev. Born in the Soviet Union in the midst of the cold war, Yuriy migrates to Cleveland, Ohio to now make violins for a living. Several years ago, he gets into a pretty bad car accident that leaves him bedridden for weeks during which, due to boredom and a desire to not waste time, he picks up what is called "Pixel Art."
"Pixel art is a form of digital art, created through the use of raster graphic software, where images are edited on the pixel level. Graphics in most old (or relatively limited) computer and video games, graphic calculator games and many mobile phone games are mostly pixel art".
Simply using a laptop and a graphic editing program called "Photoshop," Yuriy quickly acquaints himself with pixeling skills. Fast forward several years. He is now one of the best pixel artists in the world, commercially sought by many for his work. Look for yourself
Although it is a very basic form of digital art, it is still widely used in many games, web designs, as well as mobile softwares, establishing this as a viable art medium. Good pixel artists are still needed for development communities.
OLPC, having placed 1 million laptops in children's hands around the world, has opened a unique doorway for young artists to pick up and master such a skill as pixel art not only for creative expression, but also that which is marketable and profitable.
Many may argue as to why (or why not) OLPC is a success and continually discuss its consequent impact. However, at the end of the day, one fact remains and is most significant. There are now hundreds of thousands of children with XOs in their hand. Whatever the sentiment about the philosophy and operation of OLPC, 1 million laptops around the world provide an immense foundation and reason for developing such a useful tool as S.P.A.M.
S.P.A.M: Super Pixel Art Maker is geared specifically for the XO platform. With proper discipline, young users can produce professional level work simply utilizing XO and a copy of S.P.A.M. The goal of this pixel editor software is to be easy enough for kids to pick up and doodle, but be robust enough where serious users can make professional quality pixel art and animation that is commercially ready.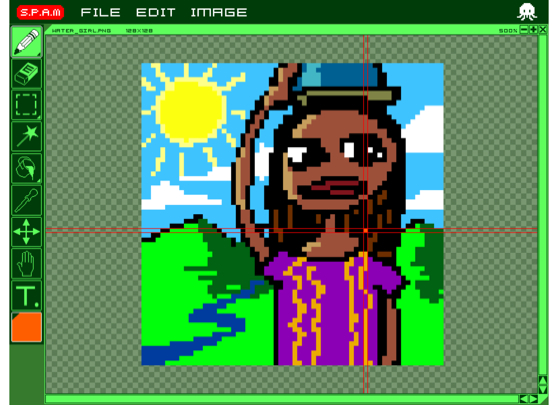 The above screenshot is a concept design of the Basic mode of S.P.A.M. The initial interface will consist of a minimal number of options with the familiar green color theme of the XO. The basic toolset is placed on the left hand side, icons illustrating the various functions of the toolset. A child will be able to draw immediately using the default canvas and a preset pencil from the start of the program.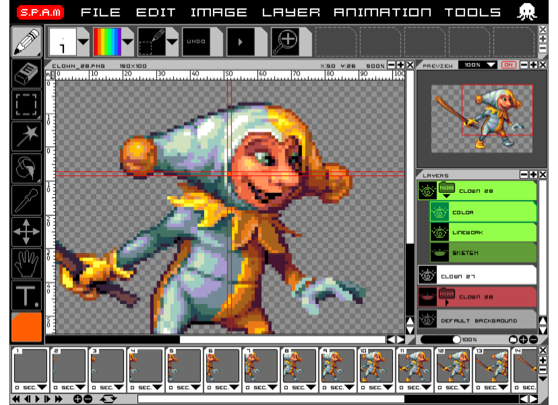 The user can then switch to "Advanced Mode" where he will be able to access options more suitable for creating professional quality pixel art. The above screenshot displays the very different user interface of the "Advanced Mode." (All designs are subject to change).
Although the toolset on the left side is essentially the same, menu items are now available at the top of the screen that enable extra functions. The overall color palette of the interface is neutral grey in order to better facilitate the assessment of color tone, which may be hindered by the green palette of the basic mode. There is now an empty shelf with slots to store user selected tool sets. This mode also features a preview screen that shows 100% view of the image in progress. It also has a layer window, as well as, an animation frame editor at the bottom of the screen. More functions and tools will be available such as layer functions, export options, image filter options, etc. (All functions are subject to change).
Realistically speaking, if S.P.A.M could be used to help children in third world countries to develop real life skills (ie. pixel art skills), be inspired and encouraged by the possibilities it presents, than S.P.A.M would have achieved its purpose.
Two Concerns for the S.P.A.M project:
Creating initial interest in the product and drawing users to come back to build up their skills. This can be done by showcasing sample works and providing tutorials that feature master pixel artists from around the world. The sample works can be displayed in portfolio fashion which can be viewed by others, but more importantly by companies in need of pixel art related works. This will allow artists to be connected to the real world with real life possibilities of selling their work as a trade.
The lifespan of S.P.A.M.

The software itself must be planned and built with the intent of migrating to upcoming versions of XO. Supplemental add-ons and updates, including a map editor, a sound and animation editor, and maybe even a simple game engine that utilize assets made from S.P.A.M can lengthen the relevancy of S.P.A.M. (All future plans are subject to change).
In conjunction to developing S.P.A.M itself, a corresponding web community feature may be developed. Essentially, it will be like the Youtube of the pixel-art community. The user will have a personal page that also functions as a portfolio page. Pixel art/animation can be shared with classmates by forming class specific groups. and it could be shared all around the world. Simply put, the web community feature becomes the vehicle and 'social networking" medium for S.P.A.M ensuring a long lifespan of the software. (Feasibility of web community feature for XO is still being researched).
I am in the process of setting up a non-profit wing of my company that will focus on the development of projects helpful to communities through art education. S.P.A.M will be the first product to meet this goal.
The biggest obstacle we face in developing S.P.A.M is a common one: funding. We are currently pursuing several possible grant opportunities for the project. Please spread the word and stay tuned. We will keep you updated with our progress here on OLPC News.
By the way, Yuriy never had formal art training. Although he has amazing God-given talent, the only tool he had was his computer and a program to make his art. Could it be possible to replicate this pattern of success and skill in third world countries by giving children the proper tools? Many of them already have an XO in their hand. My greatest desire is to give them this formidable tool where they can learn to be the next Yuriy.
James is the Creative Director of Studio iGO, an entertainment development company. He is in the process of setting up a non-profit wing to develop S.P.A.M in full time basis.