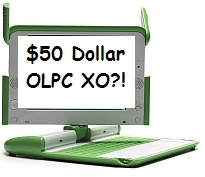 On July 4th, Digitimes attempted to
break the news
that One Laptop Per Child was predicting that the price of the Children's Machine XO computer would drop to
$100 dollars
$50 dollars by 2009:
Notebooks under the Massachusetts Institute of Technology (MIT) advocated "One Laptop Per Child" (OLPC) program are in a strong position to be the hottest PC for emerging markets and prices will shrink to US$50 in 2009, said Mary Lou Jepsen, the founding chief technology officer (CTO) of the program.
I say "attempted" because the very next day,
Ken Fisher wrote
in Ars Technica that he contacted Race Point Group, OLPC's new public relations group and was told:
Jepsen was misquoted and the DigiTimes story is "full of errors." A spokesperson told Ars Technica that OLPC is in discussions with several governments about their interest in the OLPC XO laptop but that it is simply not possible to estimate shipping volume in 2008, let alone in 2009.

That said, they did confirm that the price is expected to drop in 2009, as a combination of sales numbers, potential design changes, and component costs are factored in after the project has become firmly established. However, $50 has never been discussed as a target, and OLPC publicly has only focused on the possibility of getting the laptop down to approximately $100 in cost.
US$50 OLPC a PR KO
", where it showed photos of Mary Lou Jepsen's slides talking about price and production projections with the gleeful:
On July 4, Jepsen gave a keynote presentation at the International Display Manufacturing Conference (IDMC) 2007 in Taipei. During the presentation a roadmap was shown which indicted that OLPC has plans for a second-generation OLPC notebook in 2009.

Based on the roadmap, features of the design do seem to suggest a notebook in the US$50 range, with an improved display, lower power requirements and perhaps WiMAX seen as key points of the next-generation product.

Why there is a discrepancy between statements made by Race Point Group and OLPC's roadmap is unclear, as both Jepsen and Race Point Group have not responded to Digitimes' requests for clarification. However, once the OLPC's plans become more clear, Digitimes will provide an update.
Before Digitimes starts to dance, or we question who is Race Point Group, since the last time we checked,
W2 was OLPC's pro bono PR team
, I'd like to point out that the $50 price point projection is not new for One Laptop Per Child or the readers of
OLPC News
.
If we go back all the way to Nicholas Negroponte's February 2006 TED speech, transcribed on OLPC Talks, we find his first mention of a $50 dollar OLPC XO target in 2010, but it's the May 2006 speech at WCIT, where he fully articulates his price target:
Very quickly, people always ask: "Is it really a hundred dollars?" The answer is - It will be below a hundred dollars. The hundred dollar price is the 2008 price. It will probably launch at one-hundred thirty-five. The target is fifty dollars.
And in September of 2006, Nicholas Negroponte was
reported by ZDnet
as saying
The anticipated price for the 2007 model is $138, going to down to $100 by the end of 2008 and getting to $50 in 2010
$50 dollar One Laptop Per Child eBook reader
on OLPC News.
But best of all, Nicholas Negroponte and Walter Bender's World Bank presentation on May 31, has slide #48 showing a irrefutable $50 laptop price projection (highlight mine):
So what is the $50 dollar lesson learned from this experience? Check with OLPC News and OLPC Talks before you go mouthing off about One Laptop Per Child. The answers you seek are already known.