If you, like I, want to buy OLPC XO "$100 laptops" in retail stores, then you may get another choice for clock-stopping technology to become available. If the new Dell IdeaStorm website is anything to go by then Dell may be having a rethink on what their customers are after.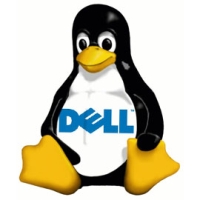 Symbol of the future?
According to a post on SlashDot:
"Within only a few days of Dell opening a new customer feedback website, they discovered that the feature most requested (by an almost 2-to-1 margin!) is an option on all new Dell PCs: pre-installed Linux. (And the number 3 request is pre-installed Open Office.) I believe they'll have a harder time now with the tired old mantra 'There's no customer demand for Linux'."
After reading through some of the ideas that people have posted it's obvious that the OLPC initiative has struck a chord with computer users. People want Linux operating systems preinstalled and green, energy efficient computers.
Maybe Dell needs to look seriously (I'm sure they are anyway) at the future implications of millions upon millions of small wireless education based laptops being unleashed upon the World. If I was Dell, or in fact any other computer company I'd be shaking in my corporate shoes. This post on the Dell IdeaStorm site is typical of what people are asking Dell for, even if right or wrong, the OLPC XO will not be in USA schools:
"Although the OLPC program is doing great things, i think that Dell should get involved in North America and help literacy programs and under-privaled kids by offering $100 laptops with subsidies and easy payment options like $9 a month for a year or $1 a month for 100 months".
Perhaps the Dell IdeaStorm site is a knee-jerk reaction to both the imminent introduction of Children's Machine XO laptops and to the returning to the helm of Dell by Michael Dell, the company founder.
It certainly seems that the company is looking for ways to connect with their buyers and a $100 laptop $150 laptop for education of children may be the way to do it. Just read Michael Dell's remarks on technology in schools.
Brand knowledge is a key marketing advantage and getting the Dell name in front of five year olds as they learn on their Dell laptops could be an extremely important move for the company. It's also possible the technology now being included in the One Laptop Per Child machine will propagate across to mainstream production where Quanta can produce an education machine for Dell.
Small and light laptops with no hard drive and bright, clear screens that are designed for classroom productivity could be in our schools and being used by our children before the decade is over. Will Dell be the name our children see every morning at school?