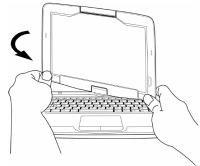 Thanks to Liliputing, we now have the FCC application for Intel's Classmate 3 design, and I have to say that I'm not so impressed by its direction. Honestly, it looks like an early XO-1 prototype design.
The only external difference between the Classmate 2 and Classmate 3 is a swivel hinge which makes the form factor look exactly like an XO-1, which is now two years old. They do manage to add a 5-wire 8.9'' ITO resistive touch screen, but OLPC took the touchscreen thunder with the swank XO-2 design.
I would've hoped for more innovation from Intel. I am still hoping OLPC to actually deliver on XO-2.