The folks running the OLPC project, to the joy of many, have not only retreated on their initial plans to make none of the XO laptops available to paying customers in First World countries, but have extended the window in which anyone who can finagle a Canadian or U.S. mailing address can finally order one.
If some back-of-the-envelope calculations are right, G1G1 machines in aggregate already constitute the 2d highest "order" placed yet from OLPC, and rising. (The customers are called "donors," it's true, and it's a tribute to OLPC that many of us think the XO seems to be a bargain as a product at more than twice its manufacturing cost.)
In what seems to this armchair quarterback a titanic marketing blunder, though, even the revised order period for the Give One Get One (G1G1) program seems certain to exclude a huge number of enthusiastic would-be buyers.
I'm talking Starbucks Envy!
Those of us with a "Day One" XO-1 expected sometime before Christmas are unlikely to keep it under wraps: I know I expect to use mine at Borders bookstores and at Starbucks, at the very least.
I'm not even a big fan of Starbucks, but I know they dispense caffeine and host T-Mobile hotspots, and the year of T-Mobile hotspot access that comes with the machines is a major selling point. Not that they're absolutely everywhere yet, but no-charge WiFi access points are ever more common, too, from Philadelphia's Reading Terminal Market to highway rest stops in Texas, not to mention well-equipped libraries all over the country.
The XO is light and sturdy, is suitable for reading in brighter light than any laptop I've ever owned, is distinctive in color and shape, and has a generous battery life and advanced WiFi reception: in short, it's the perfect public computer, and it's hard to mistake for anything else.
Some significant portion of the coffee-drinking public will want one, even if they don't yet. Face-to-face contact really is critical. (The public has been primed to look for OLPC laptops, too, with a surprising amount of mainstream media coverage fixated on the hardware as well as the vision for a connected world of kid-centric, computer-aided education.)
That means that I fully expect my XO (and all of the others out there in the wild) to draw interest and questions. Anyone with an XO at mid-December who uses it outside his house I think should brace for a string of questions, from mundane ("What is that thing, anyhow?") to philosophical ("Is that really a worthwhile project for places where poverty is severe and chronic?") to utterly practical ("Where can I get one of those?").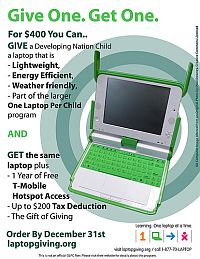 Expanding the G1G1 Message
It's this last one where the G1G1 program is missing a gigantic opportunity by cutting off sales just when most orders are probably still in transit, but a slew of first-day enthusiasts will be finally able to show off the goods to anyone interested.
Early, optimistic adopters are well and good, but if OLPC could see fit to open that order window a few more weeks at least, the G1G1 program might just see a rush of orders.
From people who see their neighbor's XO, or notice that the guy with the funny green laptop sure had good WiFi reception in the airport lounge, or wish they could read books on a daylight readable screen without being tied to a single-purpose e-book reader.
That's what I mean by Starbucks Envy -- seeing the XO in action is going to trigger some well-justified desires to have an XO, both for adults and for their kids. I plan to have a few OLPC information sheets with me to hand out to anyone who seems intrigued; the scope of OLPC, and the innovations of the hardware in the XO, defy 10-second explanations.
I've made these information sheets, XO Flier Jpeg and OLPC Flier PDF. Then Ian Issitt made this one and Fricka made a colorful G1G1 flyer.
Where is yours?
This story was submitted by Tim Lord, a law student at Temple University in Philadelphia. You too can write for OLPC News today!