While the Give One Get One community in the USA slowly receives the "Get One" side the of XO laptop distribution, the other side, the "Give One" laptops are soon to be on their way to need children according to Walter Bender:
We are going to be hashing this out to a large degree on Monday. But I do know that we are already preparing 10K machines for Mongolia, 1K each for Haiti, Rwanda, Afghanistan, Ethiopia, and Cambodia at the factory now.

The initial machines in all cases, as far as I know, are directed to programs with government involvement, but not necessarily government run.
That's great news, especially for Mongolia, a land
I've traveled through before
.
OLPC Mongolia also happens to have a very rich benefactor in John L. Thornton, who promised to support 20,000 laptops for the country back in October. I wonder if Bender's 10,000 batch is half of that or an extra allotment?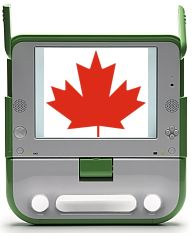 Either way, we have even more good shipping news. XO's are also headed to Canada this weekend according to Walter:
"As of last night (Jan. 9) we have successfully imported all of the Canadian orders into our system (except for the PO boxes.)

We will be shipping out the orders tomorrow and they should pass the border over the weekend, for in country distribution starting Monday."
And just to make every geek in North America happy,
Mary Lou Jepsen has predicted
that her dual mode screen will be in commercial cellphones and laptops by Christmas 2008.
And with all this good news as my OLPC wedding present, I'm off to get married.