Since OLPC started Give One Get One, a few enterprising individuals in the OLPC News G1G1 Forum have been running nightly scripts that check each XO order number on their tracking page, to separate shipping fact from fiction.
On Monday, Dr. Toast posted his XO tracking number results for those that are still waiting:
A few quick observations based on these stats: right now there are about 45,000 laptops that have shipped, and about 24,000 that have not. The laptops have been going out at a trickle for the last several weeks, although there was a big spike of over 5,000 laptops that went out on March 3 (mine was in that batch).
Thanks to Goney3, we now have a visual of the OLPC shipping activity for those that have the email from OLPC:
"Your donation is ready to be shipped and is in our shipping queue. Please check back with us every few days for updates If you have received this same response after several days (2 weeks or more) please contact Donor Services to verify your shipping info"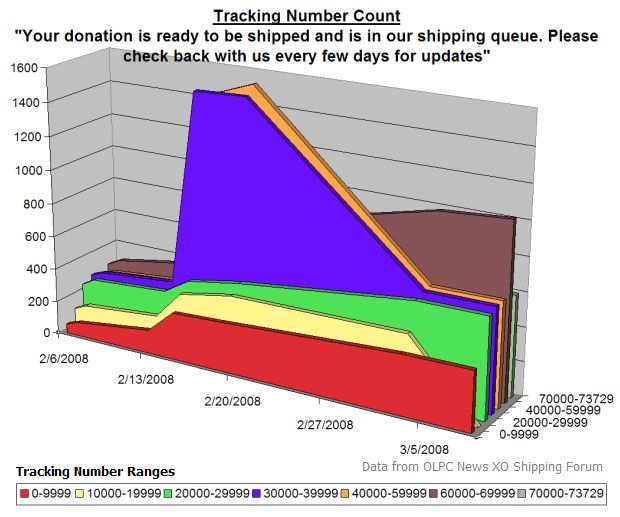 If you are one of the 24,000 who is still waiting for OLPC to Give One Got Done and have a spreadsheet skill, please download Dr. Toast's stats and do a deeper analysis on the trends you see with XO laptop shipping.
You'll have a few thousand friends if you do.