Of all the reasons to Give One Get One with One Laptop Per Child, did you base your OLPC participation on the G1G1 tax deduction?
For participants in the G1G1 initiative, to the extent your payment exceeds the fair market value of the XO laptop(s) you receive, you may be able to claim a charitable contribution deduction against your U.S.-source income. OLPC Foundation estimates that the fair market value of an XO laptop is $199.
While that was the least of the benefits for most geeks, apparently
David DeJean is all about it
: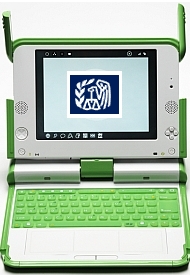 Of the $399, you get credit for a $200 charitable contribution. Next April you can deduct that from your taxable income. If your tax rate is, say, 20%, that's a savings of $40, which brings the actual price of the XO laptop you receive down to $183.95. You even get a nice email from Nicholas Negroponte, founder of OLPC, thanking you for your contribution.
But before you start to itemize your 2007 tax deductions, you might want to think a little bit deeper about the fair market value of a G1G1 laptop purchase.
See, that cool complimentary year of T-Mobile Hot Spot subscription is valued at more than $350, and that may interest the IRS. As Jeff Trexler points out, while your G1G1 donation is only for laptops and T-Mobile is giving out wifi at no cost to OLPC, the IRS has clear rules about donor benefits:
The pertinent factor is the consideration received by the purchaser, not the cost of the item to the charity.

Further weakening the exclusion: the OLPC website presents the computers + hotspot as a unified transaction--it's not just something T-Mobile is offering independently off-site, say, if you bring in a receipt. Let's face it--since the price of the OLPC laptop is normally $199 anyway, the only tangible financial incentive to take advantage of the promotion is the free wireless.
So before you get too excited about knocking off ~40$ from your taxes, be sure to consult with trusted tax and legal advisers concerning your specific G1G1 tax deductibility.