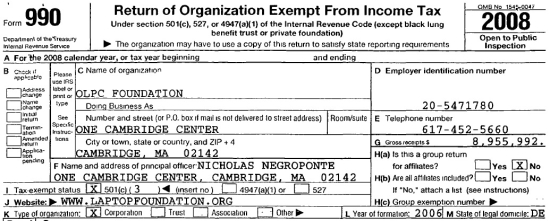 In response to the OLPC News post that explained how OLPC Foundation is XO Donations and OLPC Association is XO Sales, Paul Wiseman from the Jeffery Group sent me this interesting email:
You're correct to state that OLPCF is the foundation side of the business that receives grants, donations and the like. OLPCA is the legal entity that sells and markets XOs. However, both OLPCF and OLPCA are nonprofits; the former is a 501(c)3 and the later a 501(c)4.

OLPCA doesn't make a profit in the typical sense. All monies earned go to cover direct overhead and operating costs associated with running the pro-social enterprise. It's good to clarify this in case your readers misinterpreted OLPCA to be a for-profit organization.
It seems that Paul is concerned that profit-making might be a bad thing for a nonprofit to do. On the contrary, nonprofits can make all the profits they want - the Red Cross makes billions every year - they just must spend their earnings on the social good, not stock holders.
Regardless, why don't you have a look at the OLPCF and OLPCA finances yourself. Here are their most recent 990's courtesy of Guidestar. What do you see?
.