If imitation is the sincerest form of flattery, Elonex is about to change its name to "Laptop Per Child" to complete its total imitation of OLPC. This unknown UK-based computer assembly company has done pretty much everything else to be like One Laptop Per Child.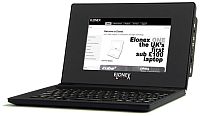 Let's recount the displays of imitation flattery, eh?
They're claiming to have a £100 laptop for the United Kingdom, which sounds exactly like the "$100 laptop" claim of OLPC, regardless of the currency difference.
They came out with a ugly marketing image long before they have a real laptop, kinda of like OLPC's green hand-crank laptop.
They're focused on educational sales to government, this time in the UK.
They called it the "One Laptop" which copies OLPC's name a little to close for comfort
The president of Elonex is legally changing his name to "Nicholas Negroponte"
Okay, so I made the last one up, but would you really be surprised if that was their next step? The OLPC-mimic has gone too far with this XO-wanna be.
No matter what Elonex announces at the Education Show 2008, don't forget: You know OLPC. You've followed them before they were known. Elonex is no OLPC. Its not even Aware.