CherryPal just announced it's Africa Netbook available for sale today through it's website for a retail price of just $99, something that OLPC had promised years earlier and failed to
deliver upon.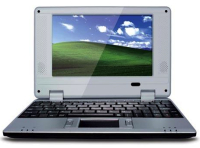 While it is certainly not developed to live up to the specifications of the XO, the Africa Netbook does boast:
7-inch display
400MHz processor
256MB memory
2GB flash storage
Linux or Windows CE
4 hour battery
Their laptop is nothing groundbreaking here, but I feel that if somebody wanted to run an implementation today this would be a seriously be worth considering or at least using for a small test implementation. The price is certainly worth taking note of as this could easily be twice as many laptops for a developing nation or even for use in traditional classrooms.