OK, it's semi-official. Nicholas Negroponte is thinking out loud, where we can hear him, about running only XP on the XO.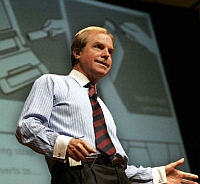 What will Negroponte say now?
"Eventually Windows might be the sole operating system, and Sugar would be educational software running on top of it."
Notice the words "eventually" and "might". The deal is not done, or it appears even under serious discussion with Microsoft, so it isn't fully official yet. Negroponte is famous for shooting off his mouth like this. But if he means it, I'm going to start the fork of Sugar myself.
Negroponte said he was mainly concerned with putting as many laptops as possible in children's hands.
I have written about this before. Negroponte is attempting to optimize on only one variable out of the full equation, and that only in the short term. Another major variable is source code availability for student programmers. Yes for Linux and Open Source generally, no for Windows.
Then there is cost, which is necessarily higher for Windows, because it requires more hardware than Linux. Language support is possible for any community in Linux, but in Windows it depends on the good will of Microsoft, or rather the bottom line market analysis results that Microsoft works from.
Volunteer development time comes from Free/Open Source practitioners for Linux and nobody for Windows. Oh, sure, a lot of Free/Open Source apps run on Windows, but Microsoft wouldn't let you work on their OS code for free if you wanted to. The biggest one is failing to put any value on getting laptops to children in prosperous countries, in order to build up a constituency for the XO, and apply it to the question of foreign aid, in addition to making money to fund further development. "Men of one idea, like a hen with one chick, and that a duckling."--Henry David Thoreau
He lamented that an overriding insistence on open-source had hampered the XOs, saying Sugar "grew amorphously" and "didn't have a software architect who did it in a crisp way."
Apparently he hasn't read, or hasn't understood, The Cathedral and the Bazaar, by Eric Raymond. And he apparently is unclear on the difference between R and D in R&D. If you know what you are doing, and can plan it in advance, it's big-D Development. And if you don't know what you are doing in advance, it's big-R Research. There is no precedent for the XO laptop. Of course it can't be architected crisply ahead of time. What was he doing all those years at the Media Lab if he doesn't know this? Or should I be afraid to ask that question?
For instance, the laptops do not support Flash animation, widely used on the Web.
Nonsense. Any user can install Flash on an XO. It is illegal to ship Flash with the XO, absent a license from Adobe. Users have to install the free download instead, giving Adobe a chance to get them to its Web site.
XOs come with the Free Software Gnash player, which plays a subset of Flash, because Abode won't give out the information to permit the community to develop their own Flash players, optimized for the various new computer architectures out in the real world. (I can't get Flash for the 64-bit dual-core processor in the laptop I'm writing this on, but that's the same whether you are running Windows, Mac OS, or Linux. There is no 64-bit Flash.)
"There are several examples like that, that we have to address without worrying about the fundamentalism in some of the open-source community," he said. "One can be an open-source advocate without being an open-source fundamentalist."
Oh? We somehow ran away with your project that you were in charge of? Is that because you never talk to the workers? And is that because we would have quit and forked Sugar if you had told us this before?
OLPC is an education project, not a laptop project. And the purpose of education in the OLPC project is to put an end to poverty. So the economics of the project matter. You have to pay attention to where the money comes from and goes to, both. It has been estimated that aid to African nations has amounted to more than a trillion dollars in the last century, and that theft of government assets in these countries has also reached a trillion dollars or more.
Microsoft's monopoly position in the industry is the issue here. The children of the developing nations can have software freedoms and no-cost software, or can become Microserfs, having to pay an annual tax to Microsoft for software updates to have the privilege of using their own computers. It would cost developing nations many billions of dollars annually to buy proprietary software to match what the children can access for free in Linux. Many times more than the cost of the computers.
I have run the numbers. For casual users, there may be enough software bundled with the system, but for power users and secondary school students needing the latest software technology in their textbooks, the ratio can easily reach 10 to 1 on conventional laptops, and even more on XOs.
Which then is better, a slower rollout of a more effective technology, or a blitz by the monopoly power? One doesn't have to be a Fundamentalist to answer either way, but one does have to be clear on the criteria used. Are we primarily trying to benefit the poor of the world in this program, or the already rich? The rich will have plenty of opportunities to get richer by selling to the no-longer-poor if we aim mainly to support the poor, but helping Microsoft maintain its dominance will cost lives, not just treasure.
Besides rethinking the laptop's technology, Negroponte wants to get OLPC moving more efficiently.
Ridiculous. OLPC is the most productive hardware and software development project I have ever seen. The only reason to complain about selling more than half a million units in less than half a year is if you believe the fantasies in last year's sales projections.
Negroponte has had to admit that he didn't understand the difference between a handshake from a head of state and a signed purchase order. His problem has been believing his own marketing hype.
Really. More than a million units a year run rate so far, which extrapolates to, oh, only a quarter billion dollars or so for the first year. That would be remarkable for a for-profit startup, and is unheard of for a non-profit.
An executive-search firm has been looking for a chief executive for the group for more than a year.
When you can't find a CEO in over a year, that should tell you something about yourself. Well, not something specific. It should tell you that there is something important that you need to know about yourself, but you don't.
So perhaps you should ask.