James Surowiecki of MIT's Technology Review has a long article on One Laptop Per Child (Part 1, 2, 3) that inflates Nicholas Negroponte's ego to even greater heights by comparing his OLPC Children's Machine XO project to Andrew Carnage's libraries. It's only too bad that the comparison fails in at least one major aspect: funding.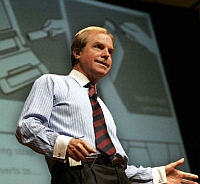 Nicholas Negroponte of OLPC
While we'll politely overlook the aggressive robber baron methods Carnegie used to amass his wealth, at least he used that wealth to underwrite the majority of his libraries' costs. Nicholas Negroponte expects others to pay his entire $30 Billion dollars per year bill. "Others" he says are developing world governments, but might actually turn out to be unsavory or repressive states or developed world taxpayers.
Then there is the telling quote in Part 2:
"We'd like to move five to seven million units in our first year," says Ethan Beard, a Google employee who sits on the board of OLPC. "That's already a pretty sizable amount of money. But eventually, we'd like to move 20 million units a year, which is $2 billion or more, and there are very few, if any, nonprofit institutions that could handle a project of that size."
Apparently Ethan isn't so good in math. OLPC is talking about 200 million units a year, or
$30 Billion dollars of laptops per year
. And that decimal point really matters when you look at existing nonprofit organization sizes.
The United Way, America's largest NGO according to Forbes, had a $3.8 Billion budget in 2005. The Bill and Melinda Gates Foundation, America's richest endowment, only has 31.9 Billion in total assets in 2006, including the first installment of Warren Buffet's gift.
So with numbers this large, Billions that dwarf any current philanthropy, and even most of the Fortune 500, James Surowiecki asks a very poignant question:
Brazil, for instance, which seems likely to buy a million laptops from OLPC as soon as they become available, has around 45 million school-age children: equipping all of them would cost something like $6.3 billion. Given the desperate poverty of many Brazilians, are laptops the best use for that kind of money?
Even more so for
$140
,
$208
,
$972
dollar laptops that hope for an
implementation miracle
.