If you are in Boston on May 20th, may I strongly suggest you crash the invite-only "State of the State" event at One Laptop Per Child headquarters at 1 Cambridge Circle. Starting at 10 am the event sounds like its going to be a watershed moment in OLPC history. Just listen to the breathless press invite: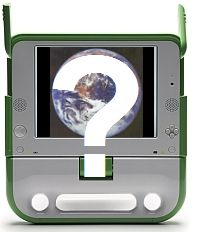 Selected invitees will have the opportunity to hear Nicholas Negroponte give a "State of the State" address on the One Laptop per Child project to date and the evolution of the XO laptop. In addition, attendees will be privy to a discussion on the product roadmap for the XO along with the exclusive unveiling of the next generation of the XO.

Nicholas and newly named OLPC President Chuck Kane will also be joined in the discussion by OLPC team members and government officials who have been on the ground in developing countries as thousands of XO laptops have been deployed and implemented into school systems. They will provide updates from countries including Peru , Uruguay and Haiti .
Now I don't know about you, but there is one phrase in all that which makes my pulse quicken: "
the exclusive unveiling of the next generation of the XO.
" Now what could that next generation be?
No matter what Nicholas Negroponte unveils, it will be the press event of the week for OLPC, and I'm quite sad I didn't get an invite and will not be crashing the party.
Not that I will feel left out. I'm sure you have your own ideas on what Nicholas should be doing - just read the suggestions of what others would do if they could be Negroponte for a day. Better yet, give me your thoughts on what the "next generation XO" could be...