When I read the news about the XO-1.5 hardware refresh on Friday evening I was initially very excited. A 1GHz CPU, more RAM, more Flash, (hopefully) faster mass-storage access due to the CaFE chip being retired, etc. That's certainly the kind of upgrade that people can get excited about.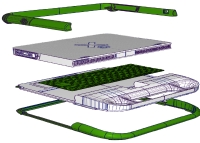 Never judge an XO by its cover!
However thinking about this development over the weekend I realized that the introduction also poses significant challenges to OLPC.The main challenge is quite obvious: How do you keep the announcement of the upcoming XO-1.5 hardware from cannibalizing sales of the current XO-1 hardware?
While key data such as the exact release date (prototypes in late August probably mean mass-production start in late 2009), price (it's likely that the current price will be matched) and the battery runtime still aren't known I can't help but think that it would ridiculous for anyone to make a large commitment to an XO-1 program when Gen 1.5 is just around the corner.
The only thing for potential deployments that makes sense in my opinion would be to order a small quantity, maybe a couple of thousand, of XO-1s to start pilot programs. But would you advise anyone to purchase something when a seemingly superior product will be available by the time the next school year (in the southern hemisphere where most of OLPC deployments are happening) starts?
One might argue that the current XO-1 hardware could be made available at a significantly lower price, maybe even $100, but frankly speaking I'd be surprised if that happened. I fully expect Quanta to keep producing XO-1 to fulfill current orders but as soon as the XO-1.5 reaches mass-production stage it would likely be too expensive to keep producing two very distinct products.
Plus even without the XO-1.5 announcement drawing extra attention to it the fact is that the XO-1 hardware is getting long in the tooth. OLPC certainly didn't succeed in making it the educational appliance I had imagined when I first read about the project. The XO-1 is a laptop, a green one with antenna ears and everything, but still very much a laptop or rather netbook as they call it these days. And it's showing signs of its age.
The artefacts that would make the XO, regardless of whether it's an XO-1, XO-1.5 or XO-2, a timeless educational device are still largely missing. I'm thinking of educational activities, interactive teaching materials, lesson plans localized for different school systems and mother tongues, a million digital books, etc. So for all the attention that the hardware is getting let's remind ourselves that what we're trying to do here is design an educational tool!
Anyway, this is just the tip of the iceberg that OLPC will need to address over the coming weeks and months. Something tells me we certainly won't run into a lack of stories to report here during the summer months.
---
Stay on top of the XO-1.5 laptop: subscribe to OLPC News via RSS Feed, Emails or Twitter.
---