Back in May when OLPC announced the XO-2 the organization also indicated that an XO-1.5 would be released in spring 2009. To date the only official information regarding the XO 1.5 is that it's supposed to have fewer physical parts and cost less than the XO-1.
Now while re-reading the OLPC community-news update from the beginning of August I stumbled across a paragraph which I had somehow missed before: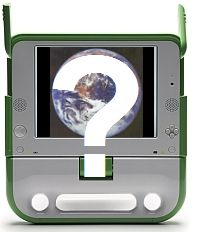 Mirror mirror on the wall...
Technology
Robert, Chuck, Kim, Michail, Richard Smith and Darah met to discuss and understand upcoming hardware changes and their business implications. OLPC is planning to migrate from Marvell's 88W8388 wireless chip to the 88W8682. The newer chip offers a 50% improvement in power consumption and has more onboard memory which will allow us to implement better mesh algorithms. Additionally, we are preparing a transition to a new supplier and a single-mode touchpad. Both changes are expected in mid-Q1 2009.
Given the timeframe it seems reasonable to assume that these changes will be integrated into a XO-1.5. While it seems impossible to find more information about that Marvell 88W8682 wireless chip a 50% reduction in power consumption certainly sounds like quite an improvement.
With regard to the touchpad I'm sorry to see the dual mode functionality (regular trackpad and graphics tablet for drawing and writing) go but admittedly most people won't miss it since it never really seemed to work anyway. One thing that I was wondering about is whether integrating a multi-touch touchpad such as on the MacBook Air or eee PC 900 would make sense on the XO?
Talking about touch (and thereby moving into the land of speculations) I'm certainly not the first person to think that an XO with a touchscreen would be pretty damn cool. Interestingly many people who first get to use the XO assume it to have a touchscreen anyway. I guess that's due to the icon-driven and apparently finger-friendly Sugar UI (no small menus, no tiny scrollbars, etc.). Also a touchscreen would make the e-book mode really usable and turn the XO-1.5 into a full blown tablet-PC similar to the Classmate 3 design.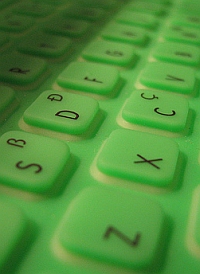 Keyboards are so 20th century!
However I haven't seen any indications of this actually happening. And even though Sugar could quite easily be adapted to be a cool touch-driven interface it would probably take quite some development time to offer a great and coherent user-experience. So while I would be super-excited about an XO-1.5 with a touch-screen I guess we'll have to wait for the XO-2 for that too happen. Unless, Pixel Qi's (former OLPC CTO Mary Lou Jepsen's company) "new screens that will be ready next year" comes with touch-functionality that is.
Another change that seems very likely for the XO-1.5 is the move from the current DDR-1 to DDR-2 RAM. OLPC's Jim Gettys recently mentioned:
AMD is building boards to test auxiliary circuitry allowing the Geode LX to support higher performance DDR2 SDRAM chips. We eagerly anticipate the results of their tests.
This comes as no surprise since DDR-1 memory is an outgoing technology and today DDR-1 memory modules are already more expensive than the newer DDR-2 counterparts. I'm not sure whether such a move would also mean that the XO-1.5 gets more RAM than the current design but it certainly seems like a possibility. This talk about auxiliary circuitry also leads me to believe that the XO-1.5 will stay true to AMD's Geode LX platform and not switch to an ARM based processor which some people expect to happen. Again, I think the XO-2 is a much more likely candiate for such a move.
The last item is the Flash-based mass-storage and there I expect a move up from the currently available 1GB. Microsoft indicated that the upcoming dual-boot XO would have a 4GB NAND storage so again it doesn't seem unreasonable to expect similar changes on the XO-1.5.
Anyway, enough day-dreaming for now, it will certainly be interesting to see what happens over the next 6 to 9 months.