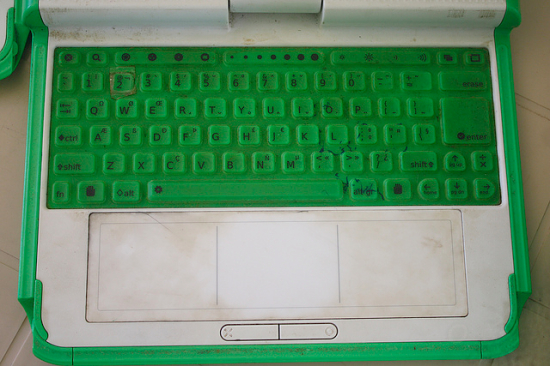 When Danishka went to an OLPC deployment in Sri Lanka, he found a dirty XO laptop keyboard. Now you would think that a dirty keyboard is a good sign - kids are surely using it! But there is a problem lurking just below the keyboard - the trackpad.
Let us hear from Jeff Patzer's experience with dirty trackpads:
The trackpad has a serious issue that causes it to not track. Rather, and this is due to the kids being dirty and not washing their hands causing the pad to get dirty, the pointer will jump from side to side and not function in the least. To help solve this problem I can clean the trackpad and reset the pad (press the four buttons in the corner of the keyboard at the same time), but it will only temporarily solve the issue before it reappears. The only real solution is to use a USB mouse.
Since Danishka's and Jeff's experiences, has there been any advancement with the trackpad? Is it still useless when dirty? Or has the XO-1.5 solved these issues?