Sugar Learning Platform v0.84
Fresh off the Sugar Labs press release is a new version of the Sugar Learning Platform for children. Sugar v0.84 represents the expansion of Sugar beyond the XO-1 - it is packaged in GNU/Linux distributions, it runs under virtualization on Macs, and most of all, its a big step in getting closer to Sugar on a Stick which will boot those older classroom Windows PCs and newer netbooks.
What's New with v0.84
Wondering what might be different about v0.84? Well the Sugar Labs leader Walter Bender says that this new Sugar Learning Platform has: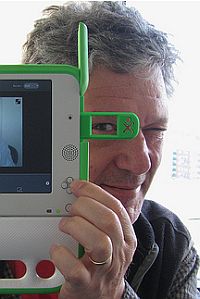 Looking at Sugar Learning Platform progress
"Great new Activities for kids to explore together such as a Mindmap Activity, a critical-thinking tool used to create diagrams representing words and ideas around a central keyword, and a Portfolio Activity, an assessment tool that makes it even simpler for teachers and parents to review a child's progress.

The Sugar Journal, which provides automatic backup and history of students' work, has new features to make it easier for students to annotate their work and to revisit and revise past projects. The new Infoslicer Activity enables teachers to quickly and easily select web-based content to edit, package, and distribute as teaching materials. And for older students curious about how computers work, the View Source function is now universal to all Activities."
Installation Instructions
Before G1G1 donors get all excited about installing this new release on their XO laptops, do note that because of the changes at One Laptop Per Child, the Sugar Learning Platform upgrade process is a little different in the short term.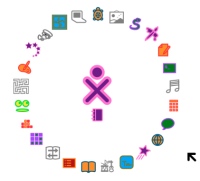 For XO Laptops: Walter Bender recommends that you run Sugar on a Stick off of an SD card (or USB memory stick) rather than installing it on the XO's NAND - wait for F11 before doing that. But if you're adventurous, try these instructions
All Other Computers: Download the relevant Sugar version for your computing system and enjoy!
No matter which version you use, all bugs should be filed at dev.sugarlabs.org and you can find additional technical help at #suagr on irc.freenode.net
Related Posts
In coordination with Sugar Labs, we're focusing on many aspects of the Sugar Learning Platform with these key posts (list updated as we publish)
To keep on the news about Sugar v0.84, be sure to subscribe to OLPC News via RSS Feed, Emails or Twitter as we will cover the Sugar Learning Platform developments as they happen.