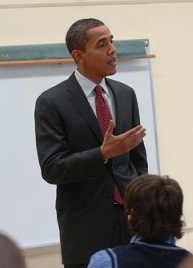 Obama in the classroom
In talking about Barack Obama's stimulus plan to propel the USA out of its Great Recession, the Washington Post says:

Much of the public works program would be aimed at improving technology. The government would pay for new computers in schools, new medical technology in hospitals and doctors' offices, and a nationwide push to bring broadband to parts of the country that cannot yet access the Internet at high speeds.

Calling it "unacceptable" that the United States ranks 15th globally in high-speed-Internet adoption, Obama said in his address that "every child should have the chance to get online."
Wow! Could this be the break that makes OLPC? Could we see a reversal where there is a focus on One Laptop Per American Child? And would this laptop be an XO?
Now before everyone gets too excited, my sources say that the US Department of Education has not been approached by OLPC in almost a year. At the same time, remember that the XO is designed for the developing world, like Africa, not the developed world, like America.
The major American XO deployment, OLPC Birmingham offers lessons if Obama does think OLPC in American schools. Mayor Larry Langford forced XOs into schools over the objections of the school board. No matter Obama's popularity, it would be hard for him to do the same nationally.
Still, the small OLPC NYC pilot shows great promise when educators and technologists work together, start small, and plan implementations wisely. Hopefully, this can be the model for an Obama-inspired computers-in-schools activity.
That the major IT companies, who can bring in the local infrastructure to deploy and support a nationwide initiative, are spurred on by OLPC competition to develop their own XO-inspired clock-stopping hot technology and Sugar-infused learning environments.
Who knows, maybe we'll see One Apple IIe Per Child yet again.