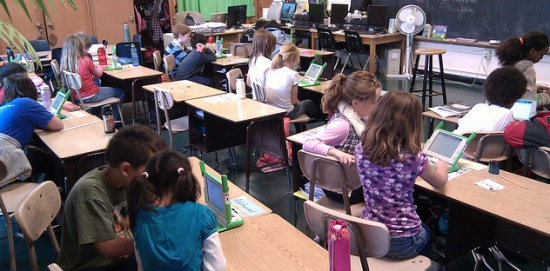 Let's saturate this classroom with XO laptops this Christmas
Many of you know Mark Ahlness, a third grade public school teacher in Seattle, WA who is currently using 12 XO laptops in his classroom. How they got there is a long story, but here's the short version:
I bought one in the original G1G1, got involved with the local usergroup, word got out that I was a teacher, and XO donations started trickling in. I've blogged extensively about the XO's in my classroom over the years, have ridden the Sugar on a Stick Express, am currently loving using XtraOrdinary 2010 on SD as an interesting option, and who knows what else. I also power 2 XO's exclusively via solar panels (yes, even in Seattle).

So I now have 12 (one is a loaner), and 2 more are on the way shortly. My kids love them - and I love the opportunities for teaching and learning that they provide.
Let's help Mark achieve full one XO laptop per child saturation for his third graders this Christmas. You can send Mark working computers or complete XO bricks. He has help from committed volunteers to recondition the XO's - even with the RTC problem.
So don't delay, make a child's Christmas this year by sending your XO laptop to Mark. Just email him directly to arrange for delivery.