Before the mixture of quality family time, delicious food and drinks, setting up the tree, false singing of Christmas songs, and of course unwrapping of presents starts here at the Derndorfer home I briefly wanted to wish all of our readers a Merry Christmas and A Happy New Year. (Well, at in case you happen to celebrate those two occasions that is.)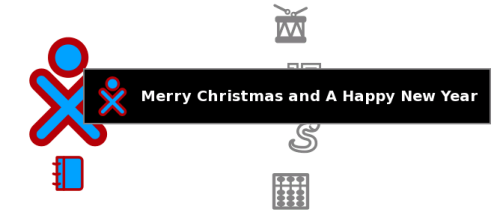 Once aforementioned Christmas celebrations are over I'm planning on taking it easy until New Year's. I have a stack of books including Walter Isaacson's Steve Jobs biography, Jeff Jarvis' Public Parts, and Chimamanda Ngozi Adichie's Half of a Yellow Sun sitting on my desk and I hope to get through at least two of them. Additionally I still hope that we'll get a half-decent amount of snow over the coming days because I'd really love to go skiing again after a couple of years.
Overall the idea really is to stay away from any work for a week or so. Though I might just sit down at one point or another to write up some reflections about OLPC and Sugar in 2011 and an outlook for the next year.
Anyway, thanks a lot for being a great and engaging audience, see you again in 2012! :-)