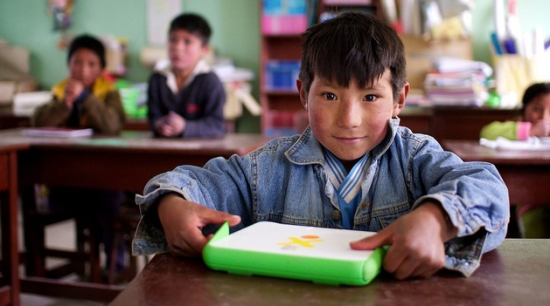 There have been many articles and reports written recently about the Peru deployment of XO laptops; I would like to try and supplement these criticisms with some first-hand experience that reveal the fundamental problems. I am Joshua Debner and this commentary is based on 3 months as an OLPC Intern in the field with the largest deployment of XO's in the world: OLPC Peru.
The Peru situation is frequently compared to Uruguay because of its similar geographic location, language, and size of deployment. Many people blame physical terrain for some of the major differences between the successes of the two deployments, but after traveling in rural Peru, I do not think that physical terrain is the main thing holding back the program's success.
Peru began purchasing the laptops in June 2007 after the success of Uruguay's program, but they failed to reach the same level of planning that Plan Ceibal required, and they missed some of the fundamental principles of OLPC in the process.
Current Situation
This is a video that I watched when I was first introduced to the OLPC program. It outlines the 5 principles that the every deployment must adhere to in order to be a part of the program. These principles are:
Child Ownership
Low Ages
Saturation
Connection
Free and Open Source
The Peruvian Ministry of Education does not follow the 4th principle of OLPC deployment (connecting the laptops to the Internet); this creates numerous other problems affecting the software image and teacher training.
Root Problem: #4 Connection to the Internet
The OLPC program is often described as a way to open doors to children who don't have access to the same resources you and I do. You aren't just giving a child a laptop; you are giving him a window to a world full of knowledge and exploration. The problem is that the schools we worked with in Peru did not have Internet that was accessible to the students' laptops. [Our partner in crime, Jeff, worked in over 20 schools all without Internet].
Although a few of the towns we worked in did have an Internet connection available within the town, they did not have a wireless connection available for the XOs, nor a plan or idea of when or how they could make this happen. One of the schools we worked in had Internet connected to their XP desktops. When I asked if they had considered buying a wireless router so they could use Internet with the XO's, they had no idea this possibility existed or how much it would cost.
This is a problem that can be directly solved by the Peru Ministry of Education. If you don't install Internet in the town, don't deploy laptops there. Yes, they might not get the coverage that there currently is in Peru in terms of number of laptops, but that might allow them to have a budget for Internet at each school and create deployments that are actually *updatable* and connected.
It's about quality vs. quantity. This, for me, is the core fundamental problem with Peru's plan for deployment. The Internet-less deployment creates a domino effect of problems which overshadow the original source of the problem.
Software Problem: #5 Free and Open Source
The reason OLPC wants all their deployments to be running free and open source software is so that "the laptop itself can easily grow and adapt". This includes being able to update the software easily and regularly, because if you've ever written software you know that it is never done, especially open source software. There will always be bugs to fix, patches to add, and features to implement.
As a computer engineer, I can say that the custom Peru image of the Sugar software that was shipped on the laptops throughout the country is at best, embarrassing. It doesn't really hit you until you are trying to demonstrate and explain an activity to a teacher and it just fails to work. Then you explain that you didn't invent the laptops and they are people still fixing things to make it better but if should work most of the time in your classroom.
The problem is that the only method of updating this software, fixing any bugs or making any changes, is to manually flash all the laptops with a flash drive. Let me crunch some numbers for you.
The Laptop Flashing Problem by the Numbers

300,000 laptops - the first batch of laptops
100 - assumed number of people to go and flash these laptops around the country
3,000 - total number of laptops/person
5 minutes - assumed flash time, and each of these workers carries two flash drives.
3000 / 2 * 5 = 7500 minutes - How long will each worker have to flash
7,500 minutes - over 5 straight days of flashing 24/hours a day not including transportation.
8 hour work day - 15 days (three weeks) of straight flashing. Ouch!
After crunching these numbers, you can see the importance of that Internet connection that they left out with principle #4. At the end of our internship, we were presented with XO's running the new Peru software image running the latest version of Sugar.
It was so exciting to see so many of the bugs we had been struggling with the past month fixed in this version, but it was saddening because of the low probability that all the XO's will receive this software update and the next version that will be released as soon as they begin updating machines to this version.
Teacher Problem
One of the most common complaints from people who have worked with deployments in Peru is that more teacher training is needed. In every school that we worked with, we had to start from scratch (the beginning, not the activity) because the teachers weren't confident with the simplest of tasks. The teachers felt alone and abandoned with no one guiding them or supporting them.
We had one successful encounter where one of the teachers of a school that we had already been to was contacted by a teacher we weren't visiting. The teacher we had taught was able to help teach this other teacher while reinforcing her own skills. The problem is that the only reason this happened is because the two teachers are best friends and call each other to keep themselves from getting bored in the rural towns they work in.
Imagine that instead of these teachers feeling helpless and alone, there was a network of teachers who were in similar circumstances learning the same things. This network could help the teachers bond together, share resources and even provide feedback to the Ministry on things that they are lacking (like thumb drives).
When we were back meeting with the Ministry of Education we were disappointed to see a very low confidence level in the teachers of Peru. When we asked about some specific problems with the software or training programs they were dismissed with the teachers wouldn't know how to use them anyway.
When we were working with the teachers on a 1-on-1 basis they were very excited to learn, and showed a strong ability to retain this information contrary to the Ministry's view.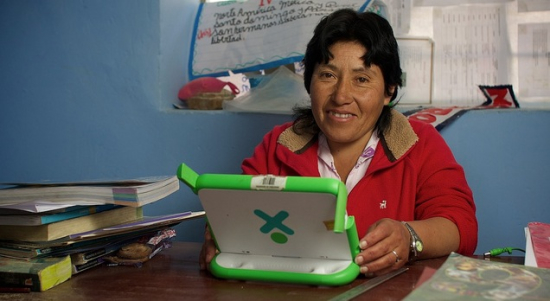 Looking Ahead: 4 Steps to Stop the Bleeding
Internet: Connect your current schools. Stop your current deployment plans and fix the ones that are already existing. Make the money that you've spent not go to waste before it is too late. Figure out a scalable plan for providing the schools in your country with Internet, whether you use satellite, 4G, or cell phone links, make a plan and begin to implement.


Update: Push through this new software update currently said to be done by end of January. It is going to be tough to get it through and out on all the machines but it is necessary because this update includes support for over the air updates of activities and hopefully the software image. This will be critical once your Internet network is built up and will make your next update hopefully 6 months (instead of 2.5 years) later much less painful.


Teacher Network: Everyone says teacher training is needed, but teaching individual teachers is a lost cause if they aren't connected and able to share their experiences. Instead work to build a network and tools for teachers to share lesson plans, or communicate with each other. Even putting up something as simple as a phone list of other teachers in the area where teachers can begin to network the old school way would be useful.


Leverage the Intern Program: The final point is that you, the Peru Ministry of Education should leverage the model of the intern program set up by OLPC. There are hundreds of qualified competent students in the US and abroad who are willing to work for next to nothing in order to have an experience that will in some way change them. Our transportation wasn't covered and many of the towns we stayed in provided food for us, it was their way of telling us that these laptops are important to them and their town. Because they appreciated us trying to help them, our costs are minimal. Leveraging interns and students from within Peru would also be very beneficial if you can find interested candidates.
Note about the OLPC intern program
It is with great sadness that I inform you the OLPC intern project in its current form is now dead. OLPC would rather not spend money on field interns who are trying to make a difference at the ground level, but instead would like to send graduate students who have stipends from their schools to come and sit in a city office and write papers about what the government should do next.
The Peruvian Ministry needs to get at ground level with the teachers and students using the laptops and figure out needs for themselves. Stop writing papers and theorizing; Act.