I'm not a big fan of Train the Trainer methodologies to scale teacher training. I agree with Juliano Bittencourt, Learning Development Coordinator for OLPC Rwanda when he says:
Even when we talk about developed countries, this model of training a small group of people that in their turn train another group of people and so on, has failed. Cascading trainings has proven to decrease quality along the chain. The first and second levels might be good, but by the seventh iteration most of the principles have got lost remaining only the skeleton of the original ideas.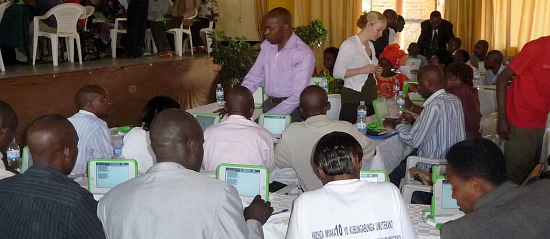 Yet that poses a very serious problem for Juliano and the whole OLPC Rwanda team, as he discusses in The Challenges of OLPC Scale Implementation in Rwanda:
Rwanda has about 43.000 teachers in primary schools. If we decided to replicate this training with the remaining teachers of the country, also in batches of 300, it would took us a little bit more than 2.9 years without a single stop week.

This number really made me reflect regarding our strategy for making the laptop initiative a success. It is obvious that 1 week of training is by far insufficient to prepare a teacher to use the XO inside their classroom. In the Rwanda context, I may say that not even 6 months of continuous training would prepare most teachers. Most of them aren't professional teachers, usually only having completed the secondary school as a criteria to teach in primary. Therefore there isn't a formal understanding of pedagogy or learning. They just reproduce the way they were taught.

So, how to make the OLPC project successful in Rwanda with such a challenge in teachers capacity building?

The common sense answer would be to increase the number of parallel trainings. Although, there is always the constraints of financial resources and qualified people to run such workshops. This last one, the human resources, are a particular issue in Rwanda. There is no academic tradition in the country neither on progressive education nor on computers and learning. This force us, and NGOs with similar objectives, to work with people from scratch in all senses of their development.
What is OLPC Rwanda's answer to the question of scaling teacher training? Juliano says model OLPC schools:
A large part of our work is to create OLPC Model Schools, that will be centers were the laptops integration into the school can serve as reference for the society in general and other schools in particular. Teachers should be able to come to those places and witness with their own eyes what their peers are doing. This will help to make the society to understand that laptops aren't a tool to teaching computer skills, but are really an "object to think with", something that qualitatively changes the way we learn.
Yet model schools have similar issues to train the trainer - you still have to get 43,000 teachers to experience a model school to effect change in their professional mindset. Juliano believes that using local media and direct XO-to-XO idea transmission will expand best practices.
Personally, I'm hoping you'll have a better idea that both of us can agree on.