To describe India's relationship with OLPC as "rocky" would almost be an understatement. Back in 2006 for example the Indian Ministry of Education was very critical of the project and called it "pedagogically suspect". Later that year some Indian organizations came together and announced their work on a "$10 laptop".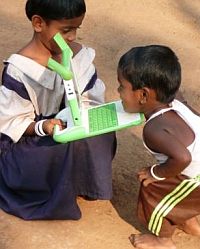 XOs also popular in India
Then suddenly in autumn of 2007 the first information about a small pilot-site in Khairat became available which was soon followed by quite an extensive report from the school which appeared on the OLPC wiki.
Now in July there's been a number of new developments which all indicate that OLPC is gaining some significant momentum in India. First in mid-July it was announced that XOs bundled with CDMA modems are expected to hit retail stores later in the year. Additionally OLPC India's page on wiki.laptop.org now mentions an additional 5 deployments going on at the moment.
The biggest sign of things to come was included in the latest community-news update which includes an invitation to the OLPC India Day which will take place in Mumbai on August 4.
Mr. Nicholas Negroponte founder and chairman of the One Laptop Per Child non-profit assosociation will be in India to share with us his vision for the world with the XO laptop and formally launch the National level initiative in India. (emphasis mine)
The following day OLPC's Chief Learning Architect David Cavallo will hold a day-long Learning Workshop which is aimed at
Teachers, trainers and content creators, persons nominated from current projects and planned deployments.
Now I don't know about you but to me this sounds like a traditional Big Bang for a larger-scale implementation project. With more than 350 million people under the age of 14 living in India the target audience is potentially very large indeed. (Just for comparison's sake: Uruguay's population in that age group is about 800,000 while Peru's is about 8,5 million.) Even if India were only able to achieve One Laptop per every 100th child this would still mean a 3,5 million units deployment.
It remains to be seen what happens over the coming weeks and months but the sheer number potentially involved in an OLPC deployment in India is just mind-boggling and we'll definitely keep a close eye on what's going on there.