English summary at the end of the article
En septiembre del año pasado publicamos un artículo sobre los planes de la Fundación Quirós Tanzi para lanzar un proyecto de OLPC en Costa Rica. Esta semana me alegré mucho cuando leí la noticia que la entrega de los primeros XO a más que 1500 niños estaba por empezar:
Este Lunes 20 de Enero estaremos haciendo entrega de las primeras 21 XO en la escuela Jorge Rossi de Santa Teresita de Turrialba. Este será un momento que definitivamente cambiará la vida de estos niños. Durante esta semana completaremos entregas adicionales en 15 escuelas de Santa Teresita, Río Cuarto de Grecia, San Isidro de Alajuela, Curridabt de Curridabat y San Rafael de la Unión. Este Jueves, 1518 niños tendrán su computadora.
Daniel Castro (Director Ejecutivo de la Fundación Quirós Tanzi) nos comentó que 12 de las escuelas se encuentran en zonas rurales y 3 en zonas urbanas. Además la implementación es 1:1 de primer a sexto grado de estas 15 escuelas y los niños podrán llevarse a casa las computadoras.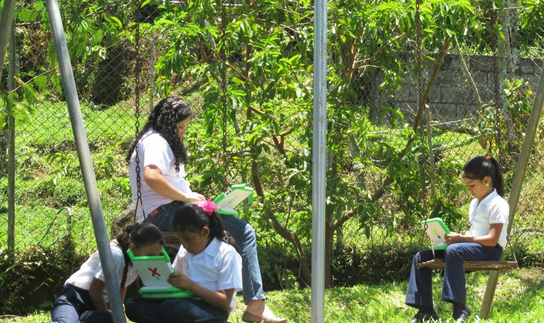 Como ya había mencionado en mi artículo anterior me gustó mucho que ya desde el inicio el equipo parecía tener un enfoque amplio en cuanto a la implementación del proyecto:
Muchas veces nos han preguntado que sigue ahora, después de entregar estas 1518 XO. Ahora es que empieza verdaderamente Conectándonos, que pasa de ser un proyecto a una realidad. Nuestro departamento educativo estará trabajando incansablemente con niños, docentes y directores para que aprovechen al máximo esta tecnología. Nuestro departamento técnico estará asegurando que cada escuela cuente con Internet, que los equipos se mantengan funcionando, y que la seguridad de los niños sea resguardada.
En total esto parece ser un lanzamiento muy sólido y ya no puedo esperar para aprender más sobre cómo se desarrolla el proyecto en Costa Rica durante los próximos meses y años.
---
English summary: Back in September 2011 we published an article about the preparations for an OLPC project to launch in Costa Rica early this year. As such I was very happy when I found out that the first 1500 or so children in a total of 15 schools are receiving their XOs this week. Fundación Quirós Tanzi which runs the project also seems to have a good approach in areas such as supporting the teachers and setting up the necessary Internet infrastructure. I therefore can't wait to see how this project develops over the coming months and years.