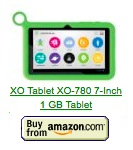 XO Tablets for Sale
Buy Your XO Tablet on Amazon.com
OLPC is selling the new XO Tablets on Amazon.com for just $149. Buy yours today!
Discussions
The interesting thing about the XO is that
the developers say children can not navigate a …

Well said Yama! :-)

@Lionel
Ever seen "Princess Bride"?
Une nuance: mostly dead.
Easy f …

Hey mavrothal, does someone know how to contact you? :-) It would be a shame to lose the link - …

does planet.laptop welcome olpcnews now? :-) boy, those were the days...

They say no stronger friendships are than those made when together facing fire.

Our enem …

Christoph, if you make it to Chicago for a visit DEFINITELY do let me know!

Christoph, Wayan, and all other contributors,

Thank you so much for making this one of t …

Beth, thanks for the kinds words. And you're certainly right: Regardless of what happens with OL …

Very classy post, Christoph! I always keep my OLPC years close to my heart and know you will too …

Lars. I'm aware that OLPC news will stop publishing soon.
I hope we'll be able to continue …

It's called wiki.laptop.org ...

Thanks for the kind words Lars, much appreciated!