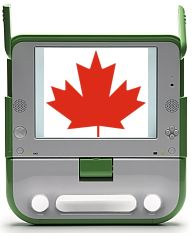 The rumors coming out of One Laptop Per Child are not kind to our northern neighbours. Apparently, OLPC's Give One Get One sales plan for 2008 does not include Canada. At all. XO laptops will not be sold on Amazon.ca, and Amazon.com will not ship XO laptops to Canadian addresses.
For the second year, OLPC has forgotten that Canadians are humans, with kids too, and OLPC is doing its best to disappoint donors like Reid - who it should be wooing, not ignoring.
But Canadians can still get an XO if they really want one - on eBay, while paying a nice little aftermarket markup for OLPC's arrogance.