There are number of good tools today for creating interactive, educational content. These tools are very powerful but have a steep learning curve. Back in January of this year, I postulated a framework called "Karma" that would make it easy as possible for software developers to start creating educational software. Eight months later, I am proud to announce the release of version 0.1 of Karma, codenamed "Osito".
Release 0.1 is very much an alpha release and we have long way to go to reach this project's goals. In essence, the Karma project aims to create a set of templates for creating interactive lessons using standard web development technologies. It bears special emphasis that these lessons can run online or offline. We are developing Karma expressly for the Sugar environment but we are making it flexible enough so that it can be used as broadly as possible.
The following presentation goes into much greater detail on the rationale for Karma and its technical architecture.
You can play with the first demo lesson here. The Karma framework is at alpha stage and under rapid development. At this time it only runs on Firefox 3.5.
The is release of Karma primarily consists of two components: the jquery plugin jquery.karma.js and a navigational layout, called Chakra. These two components are not yet fully integrated. Felipe Lopez Toledo has done a fantastic job writing this plugin while a participant in the Google Summer of Code. Christoph Derndorfer and myself designed Chakra with generous input from Om Yadav, Rabi Karmacharya, and Dr. Saurav Dev Bhatta.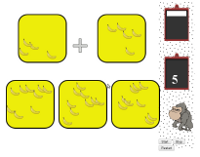 Yes Virginia, HTML5 + Javascript is the future of Open Education
While I believe that HTML5+JavaScript is the future of interactive, educational content I am not suggesting that Karma will be the best HTML5+JS solution. I certainly hope that others who recognize its shortcomings either join us to make it better or create their own solutions independently.
Going Forward
Karma won't end with version 0.1. Both Felipe and myself will be working on Karma full-time throughout this fall. We have an ambitious road map which you can follow here.
. If you want to get involved, please visit our Get Involved page.
About the Name
It is worth reiterating that we did not name this project after the religious concept of Karma but after the individual Rabi Karmacharya. Similarly, the karma logo depicts the sanskit word "om" after OLE Nepal content director Om Prakash Yadav.