In the very thoughtful and unusually well-informed post "The Educational Philosophy Controversy" on June 6, Steve Hamm of Business Week wrote about some of the major issues that OLPC and Sugar face in getting into more schools in more countries. I believe that Steve missed some bits of what is going on, as I commented to him on the Business Week site, and repeat here. Maybe he knows something I don't, though. I have asked him to share some sources so that I can tell you more.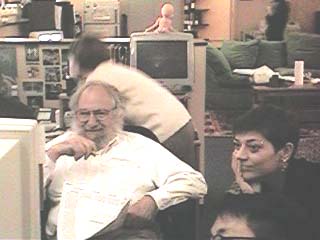 Seymour and Idit, conjuring up constructionism
...While Constructionism is key element in the OLPC's value system, it has also turned into a major point of friction. Please read on and send comments...
As one of many on the front lines of this battle, I would like to point out that there is more information available on some of these points, mostly in the OLPC Wiki and on OLPC News (not affiliated with OLPC). See http://wiki.laptop.org/go/Controversies for short descriptions and pointers to the original discussions. We have opened a discussion of what Constructionism really is, based on work of AlanKay, Seymour Papert, and Jean Piaget.
From the OLPC's beginnings a bit over three years ago, the founders had a set of values that fit together tightly. The goal was to transform learning in the Third World through the use of inexpensive computers. The strategy was to give a laptop to each child, so the computer could be an empowering device for the individual. The OLPCers believe in the Constructionist educational philosophy of retired MIT Media Lab professor Seymour Papert: Kids learn best by doing, and a computer can aid them in self-directed learning and collaboration with others. Papert had worked with and learned from the pioneering French educational theorist, Jean Piaget. The OLPC designed the Constructionist philosophy into both the hardware (mesh networking) and the software (the Sugar interface, the collaboration applications).
Your summary of Constructionism is one of the better definitions I have seen, but it is necessarily incomplete. We are working on ways to give people the experiences that make this make sense. Talk is cheap, and there are some who consider our work to be all talk and no music.See http://wiki.laptop.org/go/Constructionism for some more elements of the program, and pointers to much more besides.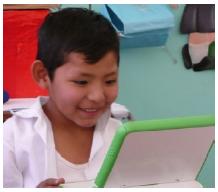 Victim or victor?
The OLPC has been criticized sharply in some quarters for making Constructionism central to the program. To them, this is a form of neo-colonialism. In Geri's and my story, we quote William Easterly, a professor at New York University and author of The White Man's Burden: Why the West's Efforts to Aid the Rest Have Done So Much Ill and So Little Good, who essentially accuses OLPC of cultural imperialism. "It's arrogant of them. You can't just stampede into a country's education system and say, 'Here's the way to do it,' " says. Our colleague, Bruce Nussbaum, critiqued OLPC over the issue in a blog posting in May.

There's no question that some large governments, including China and India, have felt threatened by the Constructionist philosophy, and they rejected the laptops partly because of it. But I think it would be a major mistake to strip Constructionism from the OLPC package just to make the XO laptop more palatable to some unenlightened
governments, which are stuck in the stone ages with the command-and-control educational philosophy. In fact, since the Instructionism educational philosophies of many Third World countries were bequeathed to them by their former colonial masters, you can argue that the OLPC offering up its Constructionist philosophy as an antidote is anti-colonialist.

On the issue of colonialism, I am one who argues for the OLPC XO and Sugar software as an antidote to education systems designed to keep populations in line while their countries were pillaged. These systems are like marching orders that troops are not intended to understand, while Constructionism is intended to function like a map that permits you to decide where to go, when to start, and how to get there, for yourself. In fact Internet access on the XO supports using Google Maps for roads, images, and terrain, and Wikipedia as a high-level map of human knowledge, and much more in that vein.
While the Indian educational ministry sees the XO and Constructionism as suspect, one of the leading NGOs working on reforming education in India, The Azim Premji Foundation, embraces Constructionism and is doing all it can to end the practice of rote learning that is so prevalent in the country. Abdul Waheed Khan, the assistant director-general for communications and information at UNESCO, says the key factor is how an organization like OLPC approaches the people it hopes will adopt its philosophy. "One of the basic problems of introducing the computer in education is that teachers are still the dominant force. Unless you convince them that using technology can help enhance the quality of learning, they won't play a positive role. Sometimes they'll resist technology even if it's for the betterment of their students."
I have not heard that India and China have issues with Constructionism, and would like references so I can follow up on that and understand it better. I know of entirely different motives for some in both governments, but it would take us too far afield to go into them in this note.
These days, OLPCers don't twist people's arms to accept Constructionism as their new religion. They see the XO as something of a Trojan Horse. If they can get countries to buy it as an e-book reader, maybe at night, at their homes, kids will use the machine more creatively. In fact, there's an effort right now to soft pedal constructionism. Edith Ackermann, a newly-minted OLPC consultant, who years ago was a research fellow at Piaget's Centre International D'Epistemologie Genetique, tries not to use what she refers to as the "C-word" when she talked to education ministers and teachers in Third-World countries. "I try to make my points by throwing the C-word into the garbage can. It can turn into dogma," she says. "Also, the complexity of it gets boiled down to 'hands on.' It's important, but it's not sufficient to have a major impact on learning settings."
It is important not to start with the word Constructionism. Ministers of education, teachers, parents, and above all students need to hear and see what the XO enables them to do, and what the benefits are. Once that is clear we can summarize our understanding with the word Constructionism, but not until then.
But the move to notch back on marketing Constructionism has also caused some conflicts within OLPC. When former OLPC president Walter Bender quit in April, one factor he cited was what he saw as a shift in the weight given to educational philosophy. "I left because I'm not agnostic about learning. I'm convinced that the way the deployments will be successful is if they focus on engaging in expression, collaboration, and critical dialogues," he says. Ivan Krstic, the former OLPC software security chief who quit a few weeks before Bender, says he left because OLPC had abandoned some of its original values. He claims that Negroponte told him the goal was to become a more effective laptop maker, and not press the educational philosophy. "As best I can tell, the organization is restructuring to become a more efficient laptop manufacturing and sales operation, while no longer wishing to focus on laptop distribution and enabling effective educational uses. In other words, it's dropping the hard problems and focusing on the trivial ones," Krstic wrote me in an e-mail.

Negroponte says he told Krstic no such thing. "That's the opposite of what I told him," he says. "I said we're not promoting a model, we're promoting several models, including some we don't like--such as drill and practice."

Both Nicholas Negroponte and Ivan Krstić got it wrong. OLPC is still doing distribution, but having several models (including Windows dual-boot) is precisely what Ivan was complaining about.
Both Walter and Ivan are active on Walter's new site, Sugar Labs. Sugar Labs is working on porting Sugar software to other versions of Linux, but not to Windows due to both technical obstacles (We can't get access to Windows to put in kernel-level facilities for mesh networking and power management) and philosophical/economic/human
rights issues (Software freedom, notably for Sugar porting, and for translations to local languages without waiting for Microsoft'spermission).
The proposed mesh networking standard, IEEE 802.11s, will mean that mesh networking becomes common in a few years, but not yet.
Where will all of this debate lead us? Not much of anywhere, unless the XO is much more broadly adopted by Third-World countries. If it gets out there in a massive way, I believe enterprising teachers will use it creatively, and kids will experiment, and there's a chance the XO and Constructionism could have a large and profound impact on education. If not, both the machine and its founding educational philosophy will be limited to islands of influence.
Since the XO is cheaper than books, and gives entry to the worlds of online information and e-commerce, there is no possible way that its deployment (or its promised $75 successors') can be resisted for long.
One cheerful note for the believers in Constructionism: Juliano Bittencourt, a researcher at Brazil's Federal University of Rio Grande Du Sud who helps coordinate one of the laptop pilot programs there,reports that Brazil's laptop program is being held up by cost concerns and evaluations. When Brazil went out to bid on an initial round of laptops for classrooms, Intel's Classmate PC won--based on price, he says. But even Intel's price wasn't low enough. So they're back to square one. But Bittencourt believes that eventually laptops will be distributed on a mass scale in Brazil. And, while the business may not go to OLPC and XO, he says key people who influence the ministry of education in Brazil are believers in Constructionism. "No matter which laptop wins, the OLPC philosophy will be an important part of any laptop adoption in Brazil," he says.
We have heard that the bidding process in Brazil failed not on the cost of equipment and services, but on tax policy. One part of the government announced plans not to charge the usual 100% import duties on computers for education. This proposal was not communicated either to the other part of the administration that was conducting the bid, or to the legislature for enabling legislation. So the bid was held under the rules then current, doubling the cost of everything. Since the money spent by the government would have come back to the government, it is not clear why this should matter in reality, but it is obvious that it does matter in politics.
We have heard nothing from Brazil about where this process is going next. It is not clear why a process that is supposed to support Constructionism did not include requirements in the bid for supporting Constructionist software, mesh networking, and the like, which Intel's Classmate doesn't. I don't pretend to understand how governments
really work internally.
The debate over One Laptop Per Child and Constructionism will likely burn hot for a long time. All the better. Now that countries that embrace Constructionism, such as Peru, are deploying laptops, the philosophy will be battle tested in the field. Educators will learn by doing, and good will come of it.
Edward Cherlin is the founder of Earth Treasury and an active OLPC contributor.