I have been working in the ICT area since the late 1970's - hence my userID of "lanfran" from back when email names were unix restricted to less than 8 characters. I am a big supporter of (proper) ICT4DEV, yet it was clear from the start that the OLPC strategy was flawed.
There were questions and issues raised when the project was first proposed, and those questions and issues are still being raised. OLPC has never felt it necessary to address the criticisms other than paint a rosy picture of what (maybe) could be done if OLPC could actually saturate developing countries with its computer.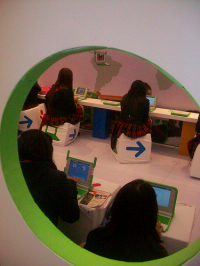 The same rosy pictures could be painted if developing countries could be saturated with food, health, potable water, sanitation, jobs... whatever. The challenge is how to get which "there" from the actual "here", given the real context and its constraints.
OLPC only got going because its founders had friends in high places, and sold their story to people (funders, Ministers of this/that) who seldom understood the field and the challenges.
I was torn between hoping they would simply fail and go away, and hoping that they would learn and broaden their focus to education and human development, maybe with a bit of attention to educational equality and equity within a framework of social justice. Once or twice it looked like they were about to learn, but then they are back to their "one note song" singing the praises of one laptop for every child.
It is unfortunate since they do get the press and the attention. They have not learned from the massive revolution around the cell phone...or any other of the easily captured lessons of the past decade.
At the same time, with the computers it has distributed it seems to have only picked "poster child" examples of what this or that child/site did (sustainable or not and at what cost).
Where are the monitoring, the evaluation, the lessons learned, and the feedback that has influenced the shape of the initiative? Even those factors that have influenced the configuration of the computer have been mainly technology and supply driven and not user driven.
Where is the consultation and evaluation with educators in the field, with those who would have to incorporate this technology in a setting already constrained by inadequate educational budgets and students facing difficult social determinants of educational access and achievement? What about teacher training, sustainable salaries and usable curriculum?
Where is the evidence that OLPC uses even this website, and other sources of critical feedback and concern, for anything more than reformulating its pitch and its rebuttals to one and all?
It is a sad episode when a technology-centric pursuit of educational opportunity and equity in the knowledge age leaves knowledge out of the process. This turns education into a game where, again, the rich win and the poor are left behind. A cynic might say it doesn't work for the poor in developing countries, but it works well as a job and a position for a lot of people inside and associated with OLPC.
I prefer to believe that they are well meaning but misguided, but a persistent failure to learn leaves one to wonder what is actually driving them. It is hard to believe that they are simply naive technology fundamentalists, driven by good intentions and bad ideas, and plagued a persistent failure to learn.
Sam Lanfranco is Professor Emeritus (Econ) and Senior Scholar at York University