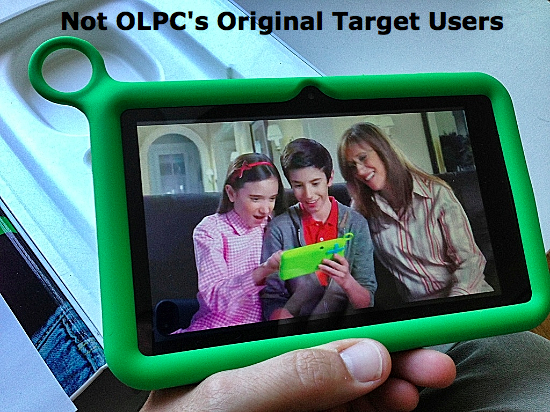 When Nicholas Negroponte launched One Laptop Per Child back in 2006, he said that XO Laptops were a mission, not a market. He famously refused to sell them via retail channels, requiring government purchases of 1 million laptops or more.
We all understood the underlying reason - he needed million unit orders to start the production line - but it didn't make the exclusion feel any better. The latent demand for XO Laptops in North America was proven with the Give One Get One sale in 2007.
With the XO Tablet, OLPC has abandoned the 1 million-unit requirement both because it wasn't needed any more, there are already plenty of Android tablet manufacturers happy to build small lots of 7-inch tablets, and because a good product should be in-demand and be sold to anyone with $150, not just governments.
This means the dream of so many is now close at hand: small scale deployments started at the school level with 5, 10, 20 XO Tablets - what would never be done with XO Laptops (unless you bought them 1 by 1 off eBay.)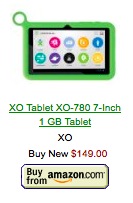 Americans, North and South
What is curious about the current XO Tablet specifications is that it's available in English and Spanish, but not French. Also, as you can see from the marketing video above, OLPC is positioning the XO as a tablet for nice, upscale, white households.
That suggests the target market for XO Tablets is North and South America - North America because the USA is the largest consumer market, and South America, which has the largest XO Laptop deployments.
That makes me wonder: Will XO Tablets go on sale in Walmarts across Mexico? Will we see XO Tablets is Uruguayan stores? Right now, they are only on sale in the USA.
Not Francophone Africa
The lack of French on the XO Tablet is intriguing. That rules out Francophone West Africa, but that wasn't much a sales success with the XO Laptop. In fact, outside of Rwanda, all of Africa was a bust for OLPC. Maybe now, OLPC realizes that having a mission is great, but you also need a market for your intervention for long-term success.
That's not to say the XO Tablet would not in African schools. Only that most educational systems in Africa need much more basic investments in teachers and schools long before laptops or tablets.