I think is time that Sugar Labs and Sugar developers to realize that the success or failure of Sugar does not depend on its ability to play YouTube videos. Not because is not important but because there is very little chance to penetrate this market dominated by Microsoft and Apple.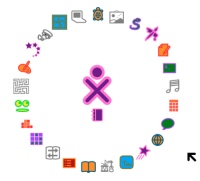 Like it or not Sugar Learning Platform's success or failure lays on its 1 million users with XO-1 (and hopefully XO-1+). If they are successful and happy and the data pile in to support it, everybody will pay attention and traction will be gained even in the developed world. However, even then Sugar's aim should be the virgin markets.
The ones with the limited resources, the ones that can not "afford" Microsoft, Intel and Apple, and Microsoft, Intel and Apple can "afford" to not to dominate them. The ones that may not have the bandwidth for youtube or even e-books. If a large enough based is formed there, it will develop its own sustainable dynamics and sugar will expand and flourish.
Going for really energy efficient software to couple the hardware and paying attention to the current users and deployments, could double linux use world wide in few short years. Hopping to get 10 million kids in the develop world schools to use sugar on their $1000+ intel laptop is fairly unlikely for reasons that we would take some time to lay out here (and please do not bring Sugar on a Stick here because that's another lengthy discussion).
So unless Sugar Labs developers want to develop for the fun of it and show what cool applications they can make or how cleverly can use the cutting edge fedora infrastructure, I would suggest to take the RedHat road. Make something solid efficient and functional for the work at hand. Developing world classroom teaching. Improve it and update it according to your customers needs. The XO deployments.
And if you do not like XOs contract another hardware and work with this in new deployments! Going after the GameBoy/PSP/iPhone kid head to head with Microsoft and Apple, as a side show on top of other linux distros and leaving behind the limited user base you now have, is a recipe for demise.
This was originally published as a comment by Mavrothal.