Resumen en español al final del artículo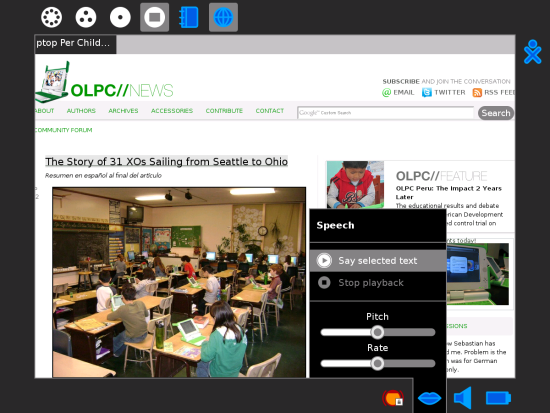 OLPC OS 12.1.0 integrates global text-to-speech
Two weeks ago OLPC released its latest operating system version 12.1.0 for XO-1, XO-1.5 and XO-1.75 laptops. Some of the most notable improvements and new features of this latest software update are:
As always you can find the installation and update instructions in the official release notes. In case you run into any issues check the known problems section there to see whether they've already been reported.
In the meantime development of the next OS version 13.1.0 which is expected to be ready in December has already started. If you're feeling particularly adventurous then you can download the very first build of that OS over here.
---
Resumen en español: Hace dos semanas OLPC publicó su más reciente versión 12.1.0 del sistema operativo para XO-1, XO-1.5 y XO-1.75. La nueva versión trae varias mejoras y nuevas características como Sugar 0.96, texto a voz, Fedora 17 y GNOME 3.4. Información sobre como instalar o actualizar un XO esta disponible en esta pagina.